Why does the World Superbike Championship exist?
It's a question I've heard asked over and over for the past 10 years, particularly in the wake of MotoGP owner Dorna's takeover of the series. There is not enough publicly available supporting data to cast WSB as financially viable or not, and I'm not attempting to boil the blood of fans for the sake of provocation. I ask the question that I hear every time I talk to R&D colleagues at global motorcycle manufacturers, bikers at a shows, and race fans during WSB events.
The series is weak. Attendance is low. Energy is absent from the crowd. The competition trackside isn't competitive. For the past five years I have gone to at least one round annually and in all cases the venue was sleepy on Sunday. The number of spectators seems to diminish. The food vendors are on-par with what my village school offers during the fundraiser. I see the same fans year after year but in fewer number, and almost no women or children. In lulls between races, the quiet is depressing.
Motor racing is hurting all over the world. Even MotoGP is suffering from reduced viewership and many of the races in fringe markets like Qatar feature empty grandstands. But the case for WSB has a second side, one which a limited number of people in the motorcycle community have been warning about for a decade. It is out of touch with the market.
Most motorcycle magazines, shops and motorcycle shows around the world for decades have been tailored almost exclusively to men over 45. As a man who is just shy of that mark I should rejoice. I have my share of greying hair, and I do prefer the music of my time to most of the contemporary variety, but I do not want my industry, my hobby and my favourite sport to tune itself to my tastes. I want it to be a innovative place driven by youthful energy and unafraid of competing ideas.
World Superbikes is painful to watch because it reminds me of my parents. I love them, but loathe their stubborn clawing at a past that will never return. The beer and tobacco sponsors are gone. The big-haired umbrella girls are gone. The public has no interest in a loud, smelly sport that is completely contrary to mainstream society's technological and cultural zeitgeist.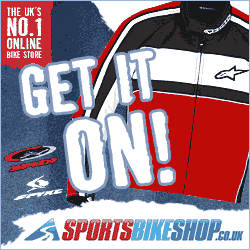 Readers of MotoFire may not like that last statement, but it is true. Most humans in the developed world live in cities, are too squeezed financially to justify expensive toys like one litre superbikes, and nearly half of us are over 50. The young, those oft-maligned millennials, make up most of the consumer economy and they are not interested in driving out to some remote racetrack and spend fifty quid to watch men in leather suits shuffle around a crumbling asphalt paddock and eat a soggy £5 hamburger.
I grew up in the superbike era and I adore them. I always found the fully-faired sport motorcycle to be the apex of the species. I watch MotoGP. I sketch sportsbikes in my free time. And I love the wail and smell of a highly tuned Japanese superbike. But that culture was a product of it's time, a time that is now past, and the industry can't go back there.
WSB is not helping sell motorcycles either. No one is buying GSX-Rs, Panigales or R1s anymore because they are, and it pains me to admit this, stupid motorcycles. Dangerous, expensive and impractical, they are as silly as a stretched out chopper or flared disco pants. We are all allowed to love what we love, but let's face facts: the superbike concept is dead.
Watching WSB is like watching a beloved dog limp along on medication and frequent visits to the vet. We had some great times together and admire the tenacity with which it clings to life, but secretly we hope it dies quickly.
The public still has a fascination with racing, but the racing has to adapt to the public and not the other way around. In North America and increasingly in Europe, flat track racing is growing. Attending a flat track event is loud and smelly too, but it can be done on a horse racing track or downtown stadium. The short events, intense competition, and low cost of entry make it fun. There is always music, and there are always families. There are even children riding, because unlike superbikes, you can let a kid play on a PW80 in a dirt field without risking serious injury or spending a fortune.
Long may the private track days and organised club racing live. Long may British Superbike thrive, and the wonderful characters and enthusiasts that make it such an entertaining sporting series. I am not wishing any ill fortune or loss of livelihood to anyone, but I feel that all that talent and resources would be more profitably spent re-imagining motorcycle competition in a way that is in-step with the times, and that ignites a new generation to watch and learn and ride motorcycles.
I remain hopeful that it happens. And even more hopeful that by some fluke the superbikes come back some day…