The upcoming Triumph Daytona 765 and Triumph Tiger 800 have been spotted testing on the roads, and both models look almost production ready.
The images were captured by spyshot maestros BMH Images, who managed to get incredibly clear shots of both new models.
The new Tiger 800, which we expect will be unveiled later this year for a 2020 release, has had a big refresh in the aesthetics department. The model that was captured appears to be one of the more off-road focused variants, with wire-spoked wheels – the front one of which appears to be 21 inch.
The face has had a huge refresh, with smaller lights and beak, making the bike look even more lanky and adventure ready. The radiator shrouds appear to be completely new, as well. The rear footpegs now appear to be bolt-on items, and the subframe is now bolted to the main frame, instead of being one single item.
Triumph caught a bit of stick for this in the past. with the footpegs, subframe and main frame as one item, a single drop could have bent the whole lot out of shape and resulted in a write-off.
The red logo at the base of the lanky forks appears to be the Showa logo, although we can't tell what suspension is being used at the rear. The outgoing Tiger 800 uses suspension from WP.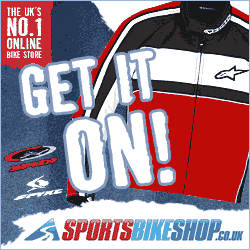 Triumph officially announced the new limited edition Daytona 765 last month, and while they gave away few details, there doesn't appear to be anything we can learn from the new spy pictures. It looks like a Daytona. The GP-style exhaust from the concept drawings does remain, which looks brilliant, in that function-before-form way that you get with race parts.
As you might expect with a limited-edition race replica, there were no pillion footpegs feature on the concept drawings, and they're also absent on the test mule, which appears to feature a true single seat unit, rather than a pillion seat cover.
It's difficult to tell for sure, but the front mudguard appears to be constructed from carbon fibre, which is a nice touch.
You can see images of both the Daytona and Tiger 800 at Motorrad Magazin.
It's been a busy few weeks for Triumph. As well as the reveal of the Daytona 765, the British manufacturer also unveiled the new Rocket 3.