Triumph officially unveiled their special Moto2-inspired Daytona 765 at the British GP last weekend and… it looks just like a normal Daytona.
Here are the facts. There will be 765 built for America and Canada, and a further 765 built for the rest of the world. The bike will be powered a new version of the firm's 765cc three-cylinder engine as featured in the Street Triple RS, designed by the team who developed the Moto2 engine. The engine is apparently stronger, faster revving, and has a 600rpm higher rev ceiling. There's loads of fancy sounding stuff going on, such as Diamond Like Coating gudgeon pins, and titanium inlet valves. And that GP-style Arrow exhaust is completely road legal.
Triumph claim the engine produces 128bhp and 80Nm of torque, which isn't much of an increase over the 126bhp and 74Nm of torque of the last Daytona 675 R, and honestly, is a little disappointing. For comparison the 2019 Kawasaki ZX-6R pumps also pumps out 128bhp with a 636cc motor. Although it does have an extra cylinder. While the numbers may seem a little disappointing on the face of it, they aren't the be all and end all. Triumph's three-cylinder engines are all brilliant, providing a good spread of torque with the adrenaline dump of a top end rush.
So the engine's perhaps not super-special, but what about the chassis? The Daytona was always famed for superb handling. At first glance the frame looks almost identical to that of the outgoing Daytona, and according to Triumph's own website, the new bike uses 'the Daytona's world-famous championship-winning chassis', which suggests not much has changed. Again a little disappointing for a limited edition bike.
Ohlins suspension sits at either end of the chassis, with 43mm NIX30 forks up front, and a TTX36 shock at the rear. Of course, they'll be exceptional pieces of kit, but the last Daytona 675 R used a very similar set up, so again there's not a huge jump in spec.
As you'd expect the 765 comes with plenty of electronic goodness. A ride-by-wire provides five different rider modes (Rain, Road, Sport, Track and Rider Configurable). These modes also alter the ABS and traction control. Since the Daytona is based on a race bike an autoblipper and quickshifter come as standard, both of which are great fun or making you feel like an actual racer.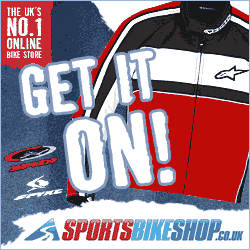 The bodywork is all carbon fibre and comes with a glossy Union Jack design.
And what's the price for this on-paper-not-much-better-than-the-last-one limited edition Daytona? £15,765 in the UK. Just shy of £5000 than the last 675 R. That's a lot of cash for a bike that, on paper at least, really isn't that much 'better' than an older, mass-produced model. The inverted commas are there because, 'better' on paper really doesn't mean much in the real world when it comes to motorcycles.
But still, £15k?! That's a lot of money for a supersport bike, which, compared to a lot of bikes in 2019, is pretty basic. Could Triumph have done a lot more? Yes, of course. They could have redesigned it for a start, and really made it look like a race bike. They could have really showcased some amazing new tech, doubled the price and people would have still bought it in a heartbeat.
It's all a bit safe. A bit meh. That was my initial reaction when I saw the first pictures of the actual bike. Meh. For me there are so many more interesting bikes out there for the same or less money, but they're not 'exclusive'.
Having said all that, MotoGP legend Loris Capirossi enjoyed riding it so much that he's apparently ordered one, so what do I know?
I'm sure it'll get loads of five star reviews when the press get their hands on it.