Indian electric bike manufacturer Revolt yesterday unveiled their new model, the RV400, which will come with switchable engine noises.
The RV400 – which bears more than a passing resemblance to the Super Soco – will come with four sound modes, all of which have terribly cheesy names.
There's Revolt, which sounds like an inline four engine from a mid-nineties video game. Roar, which sounds like an engine with an undisclosed amount of cylinders, again from a mid-nineties video game. Rage, which sounds like a two-stroke engine at idle, before morphing into a swarm of computerised bees. The fourth sound is called Rebel, and this one's actually good. Not really. It too sounds like something from a mid-nineties video game.
I kind of understand the thinking behind the idea, but on the other hand it kind of seems a bit odd making an electric bike – the future of transport – sound like the past. Will they add more sounds, such as horse hooves on pavement?
Revolt should be proud of their electric powertrain, no matter how quiet it is. If they wanted to add a bit more noise, they should have amplified the standard sound. They may not evoke the same emotions as internal combustion engines, but a lot of electric motors sound pretty cool, especially if you like sci-fi. In truth the engine sounds – which are controlled by a mobile app, the same as everything else nowadays – are nothing more than a gimmick, and not a terribly good one.
That's enough about the terrible noises, what about the bike itself? Revolt claim a top speed of 85kmh, or 52mph. Range is 96 miles. Those figures might not sound like much, but they'd make the bike a serious option for inner city commuters. Unlike some other urban-focussed electric bikes which have a top speed of around 30mph, the RV400 will actually have enough go to keep up with traffic and overtake.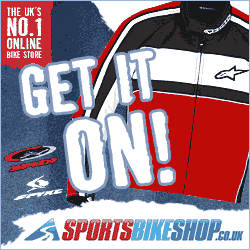 The new Revolt shares more than just its looks with the Super Soco electric bike; it also has a removable battery. Handy if you have to park it away from a charge point. The mobile app will also be able to direct you to the nearest battery swap station – that's more like it. If that's not enough, you can also order a fresh battery to be delivered to your preferred location.
The app actually does a lot more than make the RV400 sound terrible. You can start your bike from the app, locate it should you forget where you parked, check your battery life, and add a geofence, which will alert you whenever your bike moves outside the specified area.
There's no release date as of yet, and price is yet to be announced.