Canadian motorcycle startup Damon Motorcycles have revealed a prototype electric motorcycle with some pretty interesting tech, including radar, rearview cameras, and adjustable ergonomics.
Going by the computerised image above, Damon's first motorcycle will be a sportsbike, but one that could actually be comfortable and enjoyable to ride around town. The position of the footpegs, handlebars and seat can all be adjusted, perhaps even on the move, according to the below graphic. It's not clear whether the riding position will only be adjustable through certain presets, or whether you will be adjust each corner of the triangle independently to create a truly unique riding position.
I'm not sure whether or not this is something that the average rider wants or needs. The sportsbike rider buys a sportsbike because that's what they want. Would I use it regularly? Maybe, but it's more likely I'd just find my favourite position and stick with it. If however the level of adjustment is such that shorter or taller riders can fit on a bike which they wouldn't otherwise be able? That seems more useful to me.
Damon don't just want to make you physically comfortable on their bike, they also want to make you feel comfortable in your surroundings. To achieve that, the bike will use Damon's 360º Advanced Warning System for Motorcycles (AWSM), which uses radar, cameras and other sensors. Damon claim this will enable the bike to track the speed, direction and velocity of upto 64 objects at once. Damon then say a neural network will be able to anticipate accidents and warn the rider via LEDs, the rearview camera feed, and vibrating handlebars.
But what if you do have an accident? If that happens, the bike will have 5G connection, and all the information from your accident will be uploaded to Damon's cloud service. According to the company this information will then be tested in a virtual crash simulator by Damon's AI to develop and test more advanced algorithms. A software update will then be sent to Damon's test fleet of bikes for final testing, before updates will be sent to all Damon vehicles.
It's testament to the ambitious nature of this motorcycle and all the tech involved that we haven't even mentioned the powertrain. Micah Toll over at Electrek thinks the bike is powered by the new Zero motor. That motor can propel the SR/F to a top speed of 124mph and has a real world range of 160 miles. Both very respectable figures.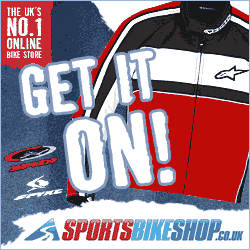 This all sounds super promising, but it also sounds incredibly difficult and complicated. Will Damon be able to deliver an electric bike with all the technology they claim? I sure hope so, because I love feeling like we're living in the future.