MotoGP 19 is the latest premier class simulation game from Italian developers Milestone, who were kind enough to send us a review code for the Xbox One.
The last Milestone-developed MotoGP game I played was Valentino Rossi: The Game, which came out in 2016. I was less than impressed and uninstalled after less than two hours of play time. To be honest, I've always had a bit of a love/hate relationship with Milestone's bike racing games.
On the one hand, it's great that there are video games out there solely focused on motorcycles. On the other, they were never really that good. So I was curious to see how Milestone's latest offering would hold up, especially with the inclusion of neural networks.
Right off the bat the menus are clean, simple and easy to navigate, something which seems to be getting rarer and rarer in today's gaming world. MotoGP 19 is just a racing game, but there are several game modes which keep things interesting. In the Historical Challenges game mode you're tasked with completing a lap in a certain time, or passing your rival within a set number of laps. For all of these challenges you're controlling a former MotoGP racer – it might be Kevin Schwantz on his Lucky Strike Suzuki, or Valentino Rossi on the Gauloises Yamaha. For MotoGP fans it's a huge boon to be able to take control of some of these guys, on such legendary bikes.
The nods to the past don't stop there, there are also three historical tracks; Laguna Seca, Donington Park and Catalunya. My first live experience of MotoGP was on a Saturday at Donington Park in 1994. My favourite racer? Kevin Schwantz. So you can bet the first thing I did in MotoGP 19 was play as Schwantz at Donington Park. The goosebumps.
This may have been a mistake as the premier class bikes – be they four or two-stroke – are a challenge to say the least, just as they should be. I crashed four times on the first lap, trying to get a hang of braking points and the throttle. Of course, you can adjust the difficulty to make it easier, but normal difficulty mode presented enough of a challenge for myself on the big bikes.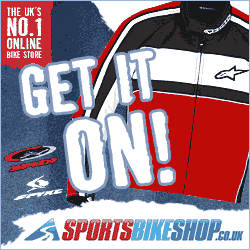 Convinced the big bikes might be a little too much, I set up a race weekend at Valencia in the Moto2 class. These bikes are easier to control, definitely, but not by a huge amount. Get on the throttle too early and they'll still buck and weave half way down the straight. Oh and the 765cc three-cylinder Triumph engine sounds absolutely incredible. In fact, all the bikes I've used so far in this game. Huge props to Milestone for that, because for a bike nerd like me it really adds an extra layer of immersion, and in some of their past games bike sounds have been almost laughable.
Career mode
Before you can get on track and start your journey to MotoGP champion, you have to create your rider. In other sports games, such as FIFA, this can be a pretty in-depth process, but in MotoGP 19 you can only choose from 12 preset faces. Character creation done. It's a bit disappointing, but you never see your rider without a helmet on, so it makes sense. You can design your own helmet, arse patch, and race number. It appears to be a pretty in-depth system, but I've never had the patience or skill for design in video games, so I've just stuck with the defaults.
You can start your career at the very bottom, in Red Bull Rookies, or at the very top, in MotoGP. I opted to start in the Rookies, and the seven race series provides a good taster of what's to come. Each race weekend you can decide which sessions to partake in. If you only want to race, you can do that, but you'll start from the back of the grid.
Once you move up to Moto3 things get a little more serious. You have development tests to complete each weekend, which upon completion give you development points. These can then be spent to upgrade your bike over the course of the season. The development tests are pretty straight forward. Complete a race simulation run in free practice, set a fast lap time, stay as close to the racing line as possible. They're quite repetitive, but it's a good way to increase play time.
Now lets talk about that fancy neural network. Milestone say this means the AI riders will learn your weaknesses and exploit them. I'm… not so sure. There have only been a few moments where I felt like the AI was actually doing this, the rest of the time, it just felt like any other racing game. I still have many races to complete, so hopefully this will become more obvious.
Verdict so far
I'm really enjoying MotoGP 19 so far. In fact, this review is late because I spent too long playing it. As a casual racing game, it's great, allowing you to get straight into the action. And as a MotoGP game for longtime MotoGP fans it's even better. I've still got plenty to discover in MotoGP 19, so check back soon for more thoughts.