It's about that time of year where we get a flurry of spy shots coming in as manufacturers put the final touches on their new models, and the latest new bike to be captured appears to be a Ducati V4 Streetfighter.
Italian publication daidegas.it got hold of the pictures, which were taken at the Pergusa circuit, located on Italy's football.
As with many spy pictures, details are hard to make out, but the bike in question does appear to have a front end very similar to the recent Ducati Streetfighter family. There also appears to be a big underslung exhaust, similar to the V4 Panigale.
It's difficult to tell whether the bike is using a single-sided swingarm, but it does look slim enough to be a V4, rather than an inline four.
It's about time Ducati got back into the super naked game. As good as the Monster 1200R is, it's not really at the same level as the Aprilia Tuono V4 1100 Factory. Ironically, Ducati preempted the super naked class when they released the 1100S Streetfighter back in 2009, but they stopped production three years later, just as the super naked class was really starting to hot up.
Now the class is awash with incredibly powerful and electronically-advanced bikes such as the Aprilia, Yamaha MT-10, Triumph Speed Triple RS, and KTM 1290 Super Duke R.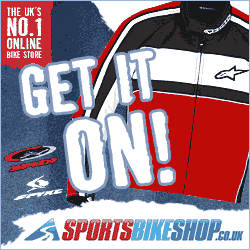 The V4 Aprilia is the current king of the class, and coincidentally the only V4-engined bike at current. That means the new Streetfighter will be going head-to-head with the Aprilia. In Panigale trim the V4 engine makes a claimed 211bhp and 91.5ftlb of torque. That's a ridiculous amount of pulling power even with a fairing to hide behind. Trying to cling on with straight bars and an upright riding position? Bloody hell. The Tuono makes 173bhp and 89ftlb of torque by comparison.
We'd expect the Streetfighter to be returned somewhat, to lower the peak power figure, but I expect them to claim more power than the Aprilia, just because they can.
As is the way with Ducati we also expect at least two versions of the new bike. A base model, which, let's face it, will still be blisteringly quick and brilliant, and then the top-spec S version, which would usually come with Ohlins suspension and more advanced electronics.
Then there's the price. The Aprilia costs £16,999, and I'd expect the S version of the new Streetfighter to cost perhaps a little more. The Panigale V4S costs £23,985, so I wouldn't even be surprised to see the Streetfighter pushing £19,999 or something as astronomical.