The UCI and FIM – the two federations in charge of bicycle and motorcycle racing respectively – are arguing over electric bicycles. Because of course they are.
Want to know more? Of course you do, it's almost as riveting as Brexit.
It turns out Theresa May is very gifable.
On the first of January this year, the UCI added E-mountain biking into its regulations, with the first E-mountain bike world championship race set to take part at Mont Sainte-Anne, Canada, in August. So, by classic playground rules, the UCI were there first, so they get to keep it. But the FIM perhaps don't see it that way.
Late last week, the FIM announced the FIM E-Bike Enduro World Cup, which will take place in France on June 1-2. Unlike the UCI championship, however, the FIM does not require the bikes used in the competition to be production models, and they'll be allowed to reach speeds of upto 45kmh. The FIM hasn't confirmed whether or not the bikes will have pedals. However, it does look unlikely that the bikes will have pedals, as any E-MTB series in France that allows speeds over 25 kmh would be in contravention of European regulations (EN-15194) in relation to pedal cycles with pedal assistance. See, I told you this was exciting.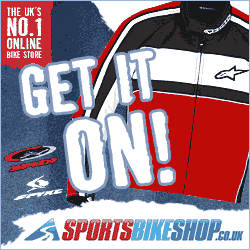 If the FIM decides to permit motorbikes/bicycles/motorbicycles(?) with pedals then it would be a bit of a dick move, considering the UCI contacted them as far back as 2017 to say that
they considered E-mountain bike events to come exclusively under its jurisdiction and that the respective roles of the two International Federations (UCI and FIM) were clear and would not be called into question.
The FIM, however, released a press release, in which they said:
early motorcycles were much based on a bicycle frame with the addition of an engine, so the story has really returned back to the beginning of our evolution.
Which is factually correct, but motorcycles have moved on a bit since then, and they've gotten much better.
Here's how to solve it. Does the bike have pedals? Yes. Then it's a bicycle and it's the UCI's to deal with.
Does the bike only have a twist grip? Yes. Then it's a motorcycle and the FIM can sort it.
Job jobbed.