Le Mans. A land of legend and motorsport myth. A name synonymous with endurance and pushing racers of both two and four wheels to the limits of their physical and mental capacities.
Thankfully, there'll be none of that this weekend as races last around 45 minutes rather than 1440 and the much shorter Bugatti circuit plays host to the French Grand Prix, although sections of it's more famous sister are used.
The track that the bikes play on is tight and made up of multiple stop-and-go sections that see late braking and hard acceleration as the riders negotiate their way around the 4.1km circuit. There are a few straight sections where riders will get to open up the gas and these tend to be the main areas for overtaking. Turn 8 of Garage Vert is a tight right-hand hairpin that will see riders go hard on the brakes before moving up the inside and fighting to keep a tight line as they roll onto the back straight.
For riders who lose a position there, they won't have to wait long for a chance to take it back. If they're able to, they can pass down the straight itself (hello Ducati) or they can make a move on the brakes into turn 9 (the hardest braking point on the circuit) and into the Chemin aux Boeufs chicane that sits at the end of the straight.
The final two tight right-handers of turn 13 and then Raccordement at turn 14 give riders the final chance to pass before they head to the finish line. Making the move at turn 13 is ok if you know you have the pace to make it stick, but run wide and you'll soon find your rival back in front of you as you power out of the last corner. (If Marc Marquez and Andrea Dovizioso find themselves fighting for the victory on the last lap, this is a perfect place for them to continue their last corner dramatics.)
But it's actually at the start of a lap around Le Mans where the scary stuff happens. Turn 1 is one of the fastest on the calendar with riders entering at 313km/h before hitting the brakes for 1.3 seconds and after travelling 103 metres finally turning in at 251 km/h.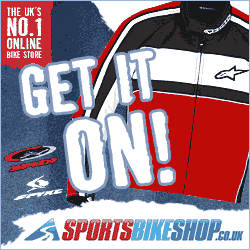 The following series of corners, from the Dunlop turn 2 through to turn 4, will see riders moving up the inside before instantly switching into defense mode to stop the rider they just passed from doing exactly the same thing to them as they make their way downhill.
Because of the unique nature of turn 1, if you let it dictate your setup you'll find yourself losing around the other 13 corners. Yamaha's Ramon Forcada described the compromise perfectly, saying "sometimes it's good to sacrifice the first corner to have a very good position in the first chicane".
In general, the setup for Le Mans will focus on balance. Stability under braking will be key, while the strong acceleration points could see aero become of more importance this weekend. With a lot of time spent at lean, tyres will also need to be taken care of and particularly at turn 3. It's the first left after a long straight and two sweeping corners that give that side of the tyre plenty of time to cool off. The gearbox is another area of focus, with Aprilia's Giulio Nava pointing out that hitting the rev limiter can be an issue in France and much of the circuit is relatively low gear (except the straights of course).
Coming briefly back to tyres and it'll be the usual soft, medium and hard compounds available for the front and rear slicks, with the rears being asymmetric thanks to a harder right shoulder. If it rains, and 9 of the last 16 races at Le Mans have either started wet or had rain during the race, then the wets will be in soft and medium compounds, with the rears again being asymmetric. Thankfully, the weather forecast currently looks ok, but you can never be too certain with Le Mans so maybe pack your "parapluie" just in case.
Following the trend of the last few races having new or altered surfaces, Le Mans' surface is also relatively new. But unlike the others it was done before last year's Grand Prix, so riders, teams and Michelin all have plenty of data going into this race. In 2017 the surface was flat and gave plenty of grip, obviously, it won't be exactly the same 12 months on but it should still give pretty good results.
That grip and the sweeping nature of many parts of the circuit mean that this weekend should be a good chance of redemption for the factory Yamaha team. Last year saw a certain 1-2 turn into a win, a crash and a satellite podium, but Vinales, Rossi and Zarco were all strong. This year they come from tests in both Jerez and Mugello where the bulk of the work was on electronics and getting the most out of their setup, and while Valentino said "unfortunately we don't find many things.. our level is similar to Jerez" that doesn't mean they won't be back near the front this weekend. If they are it won't be because they've solved all of their issues, but with no win from the first 4 races for the first time since 2014, for the Yamaha team, it would certainly be a welcome boost in the garage.
Of course, whether they can be near the front in France won't just depend on them. For the last few years, Marc Marquez has arrived at Le Mans with a few issues, largely in acceleration and that has held him back around the Bugatti circuit. This year, Marquez comes from 2 dominant wins with much-improved acceleration and a good feeling with his Honda.
The World Champion did have a big crash during testing at Mugello, but thankfully was unhurt and the aero that he and Dani Pedrosa worked on could come out to play in Le Mans to keep wheelie under control. He and the other Hondas of Pedrosa and Crutchlow all have a chance of a strong weekend; with Dani and Cal both looking to make up for their crashes in Jerez. One possible issue for Pedrosa could come from the sometimes cooler temperatures as that normally means Dani has issues getting heat into his tyres, but hopefully, that won't be a problem this year as he gets closer to full fitness.
Ducati has never won at Le Mans, but neither of the boys in red should be ruled out. Dovi is in good form and expects a strong weekend at a circuit where he's taken 3 MotoGP podiums and generally qualified well. But it's been Jorge Lorenzo that has really made Le Mans his own during his years at Yamaha. He took 6 podiums with wins making up 5 of those years and after improving his feel with the bike both in Jerez and during testing at Mugello (where he tried a different chassis) he's hopeful for a good result on Sunday. With both riders ending the Spanish Grand Prix in the gravel, they'll both be pushing from FP1 to get the most out of their Desmos.
The Suzukis have proven themselves ones-to-watch in the last few races with three podiums in a row and back-to-back top 3 finishes for Andrea Iannone at Austin and Jerez. His team-mate Alex Rins has also looked strong but is just lacking that final bit of consistency that has led to him ending his races on the floor with another DNF. Of course, this is a tricky period of the season for Alex because he missed it during his rookie season in 2017 due to injury, so while he's not a rookie, he kind of will be until we get to Assen. He does have a little less pressure now though as he has secured his future with Suzuki by renewing his contract for another two years. Iannone also looks close to finalising his deal for next year (where is still unknown), saying "in a few days everybody will know what happens about my future".
There's also been some contract signing at Aprilia, with Aleix Espargaro staying put for another 2 seasons, something he is delighted about as he hopes it should bring him some stability. Of course, what he really needs is some reliability from his bike after another technical issue ended his race in Jerez on the first lap. Team-mate Scott Redding says that he made some "radical changes" to his setup at the Mugello test, so it will be interesting to see if that gives him what he's been missing this time out.
KTM will continue trying to close the gap to the riders in front of them, with the Austrian team returning to their usual 2-rider team after test rider Mika Kallio joined them in Jerez. And the satellite teams will all continue working in their individual areas, such as corner exit acceleration for Morbidelli, while Pramac, in particular, will be one to watch this weekend, as both Petrucci and Miller have the potential for good results on Sunday.
But when we're talking satellite teams and Le Mans, there's really only one person we can talk about… the back-flipping Frenchman himself, Johann Zarco. Coming into his home Grand Prix, Johann is the top independent rider and the highest placed satellite Yamaha after the first 4 races since 2002. He's the top Yamaha period and sits second in the championship, 12 points behind Marquez. With 58 points he has the highest tally for a French rider at this stage of the season since the current points system was introduced back in 1993, and his last DNF was on his MotoGP debut at Losail in 2017, with 21 point scoring appearances since.
His last victory flip came at Valencia in 2016 as he ended his championship retaining season with a win. Will he become the first French rider to win at home in the premier class since 1954? It's impossible to say, but that win has to be coming soon and Le Mans suits the Yamaha and so far this year he's been making that bike work better than his factory brothers have been able to. With strong performances ahead of a home race comes expectation and pressure, but Johann seems determined to turn that into extra-motivation and if he's able to achieve his goal of staying relaxed but focussed it should be another strong weekend.
What does the Le Mans Bugatti Grand Prix race circuit have in store for us this weekend? Who knows. The only non-Spanish rider in the last 9 years to win in France was Casey Stoner in 2011. Only 6 riders have scored points in each of the first 4 races and the championship lead has changed after each chequered flag.
What I do know is that the French Grand Prix should bring us another beautiful package of fast, close and thrilling racing, across the classes, and that you won't want to miss any of it.