In MotoGP sometimes you have weekends where things mostly go as you expect them to, for example, last time out at Austin, the Marquez script was played out to perfection.
Then there are the races where the end result isn't quite what you imagined and Jerez definitely fits into this category.
Marc Marquez showed strong pace throughout the weekend and despite qualifying in 5th he was pretty much a certainty to fight for the win. That turned out to be true, but everything else that happened? Not so much.
When the lights went out at the Circuito de Jerez – Angel Nieto, it was under bright blue skies with track temperatures just reaching 40 degrees. We knew race day would be a warm one and despite being resurfaced the track surface still gets very slippery as the mercury rises.
Cal Crutchlow started from pole but it was Jorge Lorenzo that got a rocketing start off the line ahead of Dani Pedrosa and Johann Zarco.
Lorenzo's choice of the soft front tyre meant that he had to push early and it was reminiscent of Jorge's days at Yamaha as he smoothly weaved his way out front.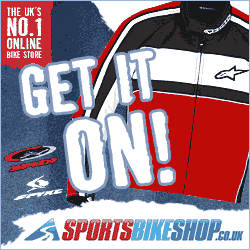 Marc Marquez had made a good start but didn't improve on 5th until the final corner of the first lap when he passed Crutchlow to move up into 4th. Bradley Smith made the most progress on lap 1, with the KTM rider moving up 7 places to 14th. But it was considerably worse for Aleix Espargaro as his Aprilia broke down on the first lap due to an engine issue; both he and his team-mate were actually running new engines on raceday but that didn't work out so well for the Spaniard.
On lap 2 Marquez made the move up to third after again making a move at turn 13, this time on Zarco and it was the World Champion that set the fastest lap as he turned his attention to his team-mate in front of him.
Valentino Rossi made a small amount of progress when he passed Andrea Iannone for 8th before Jorge Lorenzo ran wide at turn 6 and Pedrosa briefly came through to take the lead before Lorenzo cut back for turn 7. Marquez then made the move on his fellow Honda at the Alex Criville turn 11 with a fantastic pass up the inside of the fast turn that moved him into 2nd.
By the 5th lap, Lorenzo had a lead of just 0.2 over Marquez, while behind him Crutchlow had passed Zarco for 4th at turn 1 as the French rider struggled with the front-end of his Yamaha, and Dovizioso and Rins fought it out for 5th.
That battle was short-lived as Alex Rins crashed out at turn 11 on lap 6 after losing the front, giving the Suzuki rider a gravel bath and his 3rd DNF this season.
Attention then turned to the fight for 8th as Petrucci passed Rossi at turn 9 before running in too hot, allowing The Doctor to cut back as they headed into the next corner.
Lap 8 and the next faller hit the floor. This time it was Cal Crutchlow as he lost the front at turn 1, before rejoining at the back of the field. The British polesitter later retired on lap 17.
That meant that Dovizioso had seen both of the riders in front of him fall and with the Italian showing good pace it looked as though his hope of fighting for a podium might come true.
Back out front and Marquez was all over Lorenzo, as the Ducati rider was visibly battling movement from his bike in some of the turns. Turn 13, at the corner named after him, Lorenzo lost the lead as Marquez moved up the inside as they came to the end of lap 8. Realistically, the soft front tyre had allowed Lorenzo to push early on but with the riders around him still in the 1'39s while he was in 1'40 it seemed to have run out of a little bit of pace.
One lap later and Dovizioso passed Pedrosa for 3rd at turn 13, making it a provisional double Ducati podium, while his fellow Italian, Rossi, found himself in a Pramac sandwich between Petrucci and Miller back in 8th.
The next two laps saw two further crashes with Abraham falling at turn 1 before rejoining and Luthi ditching it at turn 11 and leaving a considerable amount of gravel on the track in the process.
That proved problematic on the next lap, when, as the fans paid tribute to Angel Nieto on the 13th lap (12+1), Marquez came round to the Alex Criville corner and saw the rocks on the track too late and suffered a big slide with his rear tyre. Perfect reactions kept the Spaniard onboard but it was a dangerous situation with so much debris on the racing line. Yellow flags were being waved but if someone had crashed that wouldn't have been satisfactory.
It didn't disrupt Marquez's rhythm though and by the next lap, he had pulled a 1.1 lead over Lorenzo, who in turn was being doggedly followed by Dovizioso who just couldn't find a way past. Lap 15 saw Dovi attempt to pass at turn 13 but he had to pull out of it as he almost hit the back of his team-mate and lost his position to Pedrosa in the process. He swiftly took 3rd back though, retaking the place at turn 1.
The start of lap 16 was also an impressive milestone for Valentino Rossi as it marked the completion of his lap around the Earth. Since joining Grand Prix racing back in 1996 The Doctor has completed 8730 laps in 369 races, taken 115 wins, 227 podiums, 64 pole positions and secured 9 world championships. The end of lap 15 meant he had travelled the same distance as the circumference of the Earth (40,075km) and it's a record no-one is going to be beating any time soon.
Then came lap 18. It started with Marquez having a 2.28second gap over Lorenzo and Rossi briefly passing Petrucci at turn 1 before the Pramac rider took the 7th position back. It ended in disaster.
Dovizioso was still clinging to the back of Lorenzo as he desperately looked for a way past his team-mate. At turn 6 he saw his opportunity and passed Lorenzo up the inside on the brakes. But as often happens at the Dry Sack corner he ran wide, with Lorenzo also running off-line as he prepared to cut back and hold his position.
But while the Ducatis had run wide they had left behind them a wealth of space that presented Pedrosa with the chance he'd been waiting for and he slipped up the inside, keeping a tight line to the kerb.
Lorenzo then cut back to the inside line, without realising Pedrosa was now in that space and crashed into the side of the Repsol Honda. That set a pinball action into effect, with Pedrosa flung to the moon as his bike jerked underneath him, while Lorenzo was deflected wide into the path of Dovizioso with both Ducatis hitting the floor and going spinning into the gravel, while Pedrosa picked himself up from another huge highside that had left his bike stricken in the middle of the track, calling for some quick avoidance tactics from the following riders.
Dovi was angry with Jorge, letting his Italian blood show through his hand gestures, which Jorge returned by gesturing towards Dani, who was more preoccupied with the amount of pain he was in after landing incredibly hard on his right hip. Dovi then tried to rejoin the race with the wrong Ducati (which I'm fairly certain would be against the rules, although I don't think it's explicitly mentioned anywhere..) before all 3 were left to return to the paddock on scooters.
That now left Marc Marquez with a huge advantage, his gap increasing from 2 seconds to 7 in the space of one corner as Zarco now moved into second with Iannone in third. The riders who had been fighting for 7th now found themselves looking at a fight for the podium with Petrucci, Rossi and Miller all chasing down the Suzuki.
On lap 20, Vinales finally made it past Morbidelli for 8th, while Miller passed Rossi for 5th and Petrucci passed Iannone for 3rd, with both moves coming at turn 6.
Further back the KTM trio of Kallio, Pol Espargaro and Smith were sitting pretty in a line from 11th to 13th, with occasional changes in order.
With Marquez already on his 24th lap, Rossi passed Miller for 5th at turn 13, before Iannone took 3rd back from Petrucci at turn 5 and Vinales passed Bautista for 7th at turn 10.
Onto the last lap and Rossi could clearly smell a podium and his pace was strong but it came a little too late and he couldn't quite make up the gap to Petrucci.
Meanwhile, Marquez had such a big lead that he was relaxed enough to start waving at the fans as he came through the Peluqui corner at turn 10 before again dancing over the line. This time it was something apparently called "flossing/ the backpack kid dance/ twist-twist" depending on who you are. I'm willing to show my age and ignorance here and say I have no idea what the hell he was doing but Marc says "all the kids are doing it, and I'm a kid".
Following the World Champion, and new championship leader, to the chequered flag, was Johann Zarco and Andrea Iannone, while Nakagami split the KTM trio, slotting into 12th between Espargaro and Smith.
For Marc Marquez, it was another masterclass in domination.
Regardless of what happened behind him, this was his race to win and he did so with terrifying command over the rest of the grid. It hadn't been the easiest weekend at a track he often struggles at, but after 3 crashes and a difficult qualifying, in the race no-one else came close. He was understandably delighted with the win and showed that through his celebrations (some of the most exuberant we've seen in a while from Marc). Winning at Jerez is an important marker for both him and Honda and is a sign of good things to come.
Johann Zarco admitted that he got lucky with the fallers in front of him, particularly because he'd been struggling to make it past Pedrosa for a number of laps. But as the Frenchman continues his run of scoring points in the last 21 races and takes his 3rd podium of the year, following his 8th successive front row, he moves to second in the championship and is really showing his potential in the early stages of this season.
His Tech 3 team-mate Hafizh Syahrin just missed out on the points back in 16th but had been suffering a lot of pain throughout the weekend, but especially on race day. In Austin, he'd had two heavy crashes, before having a fast bicycle crash in training that left him with a big scrape on his left hip. By the halfway point the Malaysian was running out of energy and his boss Herve says he hopes that Hafizh will stop cycling downhill from now on.
Third went to Andrea Iannone as he secured not only his first ever back-to-back MotoGP podiums but Suzuki's 3rd podium in-a-row for the first time since 2008. The Maniac is performing really well so far this year and he looks happier off-track as well. He was disappointed to have made a mistake with his tyre choice after changing to the hard rear on the grid, but happy with another strong weekend and the progress they made with the bike after struggling in the slower corners on Friday.
The other Suzuki of Alex Rins again ended up being brought back on a truck as he failed to finish for the 3rd time in just 4 races. The Spaniard said he didn't understand why he had lost the front as the data showed that he didn't do anything different but with 2 days of testing at Mugello later this week he needs to find some consistency because the pace is there.
Danilo Petrucci brought home 4th for Pramac and while he was happy with the position, the Italian was disappointed to have not been able to catch Iannone for the podium as he had to defend from Rossi. He'd shown decent pace in the weekend and after saying on Saturday that he didn't think they were quite at top 5 level for the race, 4th is a strong result.
Jack Miller followed him home 2 places later in 6th and was happy with a good result, despite not being able to hold off Rossi and felt that it had been a good weekend overall as he returns to almost full fitness after his pre-Austin shoulder injury.
5th was secured by Valentino Rossi but he was quick to point out that he got lucky with the crashes in front of him and that despite having an ok race they shouldn't be in a position where they're happy to finish 5th. Jerez was another difficult weekend for the Factory Yamahas as their old woes with lack of acceleration due to lack of grip and spinning returned. Valentino places these issues as 25% mechanical and 75% electronic, and it's on the software side of things that he really wants Yamaha to focus their attention.
Speaking after the race he said that "if we want to fight for the podium and the victory, Yamaha have to help us and in not too long a time". He was more openly critical of the lack of development than normal and it's important to remember one thing: when Valentino says something, he does so for a reason. He's already worked out what he wants to say and what he wants the outcome to be. He doesn't speak without thinking and he knows how much weight his words hold, especially when spoken publicly.
He wants action from Yamaha and fast, and the Hamamatsu factory would do well to listen.. they've fallen behind in their electronic development, especially after so much focus on their chassis issues last year, and they're being left behind. If anyone from Magneti Marelli is looking for a new job give Lin Jarvis a call.
The other Yamaha finished in 7th after a difficult race for Maverick Vinales that saw the Spaniard struggle to make it past Morbidelli and Bautista until he found a bit more grip late on.
The main issue for Yamaha, aside from the actual problem, is their lack of consistency, and I don't mean in results. While being able to get a podium one week and then struggle to finish in the top 5 the next is problematic, the fact that their issues aren't even presenting consistently is possibly even more of a challenge.
In Austin, Vinales went for a more aggressive style with a bit less electronic interference and it worked, he loved it. In Jerez, with less grip and higher temperatures that simply doesn't work. Last year, they struggled at Jerez, found some improvements in the test, had a great race in Le Mans and then got lost once it got hot again at races like Barcelona. Don't be surprised if they're strong in France in 2 weeks time, but don't be fooled into thinking that that necessarily means problem solved (although it would be great if it did).
Alvaro Bautista took the flag in 8th, which is a good result for the Angel Nieto team rider at the circuit that now holds the name of "el maestro". More important than the final position for Bautista though was the good feeling they'd found with the bike from FP4 after working on the front-end of the bike. After the race, Alvaro said "I felt that I was riding the bike rather than it riding me" which is always a good sign.
His team-mate Karel Abraham finished 18th after crashing and remounting and the Czech rider had suffered from a bad feeling with the front from the start of the race, giving him an unstable bike that ultimately led to him crashing.
It was also a good result for the rider in 9th, Franco Morbidelli, as the rookie gets an important top 10 finish thanks to a strong start, although the Moto2 World Champion did have to slow down towards the end of the race as his tyres dropped off. His fellow Marc VDS rookie, Tom Luthi, was unable to finish the race after crashing out and had struggled with the front of his Honda with a full tank at the start of the race and was unable to keep the pace before he lost the front.
Rounding out the top 10 was the first of the KTMs, wildcard Mika Kallio onboard the first evolution of the 2019 bike. The Finnish rider felt that they were getting closer to the level they had finished at in 2017 and that his newer version of KTM had suffered less with grip and spinning than his team-mates.
Pol Espargaro followed him home in 11th and the Spaniard hadn't found the right feel from the start so while he was disappointed to finish behind Kallio, he was able to take the positives from the factory's development work. Bradley Smith completed the trio in 13th, after losing pace with the others in the second half of the race and was also happy to see the bike Kallio was riding showing promise.
Japanese rookie Takaaki Nakagami found it difficult to feel the grip in the higher temperatures and focussed on the need to improve his starts and performance over the early laps, but 12th is still a good result for Taka after some struggles during the weekend.
His team-mate Cal Crutchlow was forced to retire in the latter stages of the race after crashing and rejoining. The British rider said that his hard front tyre had been overheating because as he lacked rear grip he was trying to make up time on the brakes but at turn 1 he maybe just leant too much and lost the front. He also thought he might've touched the white line but was unsure. After qualifying on pole he had been confident ahead of raceday but his comments about having to manage the front tyre carefully proved true.
Tito Rabat took the flag in 14th after a difficult weekend that was compounded by a not-so-good start and lack of good feel with his bike. His Avintia team-mate Xavier Simeon finished 17th and was equally unhappy, saying "we went worse and worse every lap" as the Belgian rookie lacked pace and was unable to push.
The sole Aprilia to make it to the line was Scott Redding in 15th but his issues with grip that had plagued him throughout the weekend continued and Aleix Espargaro had been forced to retire early on as his new engine decided it didn't really fancy 25 laps around Jerez. Aprilia, like Suzuki & Ducati, will be testing at Mugello ahead of Le Mans.
Then we come to the 3 that brought the biggest talking point of the race; Dani Pedrosa, Jorge Lorenzo and Andrea Dovizioso. Thankfully all 3 were "ok" and Dani didn't further damage his already broken wrist but did have a lot of pain and swelling in his right hip.
First, we'll start with the completely innocent party, Andrea Dovizioso. Dovi had been happy with the feeling they'd found on the bike after some big setup changes and fitting the aero fairing and his pace and speed were good. Unfortunately, for the Italian, he had arrived at Jerez leading the World Championship and he leaves it 24 points behind Marquez in 5th. Dovi knew nothing and could do nothing about the crash, the first sign of trouble for him was when he was smashed into by his team-mate.
Giving his opinion on what happened, Dovi said "I was unlucky, I braked very late.. both did a mistake, I think. Dani is the rider behind so he can manage better the situation and he didn't because he enter too fast and I think this happened because Jorge and Dani were too on the limit.. Jorge, I think he also did a mistake because he didn't really care about the inside line because he was a little bit out of the line, it's true that from the helmet is impossible to see inside but you have to take care and he didn't".
Andrea also said that he felt Jorge's decision not to have the size of the group displayed on his pitboard was a mistake but Jorge brushed that off saying just because you know there are 3 of you, doesn't mean you know where all 3 are.
For Lorenzo, he was reluctant to explicitly blame Pedrosa and assigned it mostly to bad luck, while apologising to Dovi. The Spartan was happy with his good start and speed and it was a very impressive first few laps at the front for the Spaniard as he made the most of his soft front tyre. Jerez is one of Jorge's favourite tracks and he was pleased with the work they had done on the bike to make it smoother.
On Pedrosa's side he showed good pace throughout the race and while he found it tricky to pass the Ducatis, he made it equally problematic for others to overtake him. With his wrist still lacking some strength and range of motion, he had a strong weekend, particularly with his second place on the grid.
Like Dovi and Jorge, Dani pointed out that they are 3 of the cleanest riders in the class and rarely cause problems (although they often get caught up in them). But Dani was less impressed with Race Direction after he went to speak to them (not Race Director Mike Webb as he was busy overseeing the Red Bull Rookies) after the race for clarification after it was deemed a racing incident.
It was a decision Pedrosa disagreed with, he explained "I asked them how they judge: Was I on the correct inside line? Yes. Were the other guys on the outside coming back from a mistake, re-joining the right line? Yes. So who has preference in this case, the guy who is inside or those who are outside? The one on the inside. So, who was at fault? But I didn't get an answer, only that they had already made their decision and that if I didn't agree with it, which I don't, to appeal against Jorge if I wanted. But I didn't want that, as I don't want Jorge to be penalised, only for them to understand correctly what is happening on track."
For Dani the issue is with riders not looking when they rejoin the inside line, for Jorge, it's that the rider behind needs to be more aware when they move up the inside. For Dovi, it's both.
Essentially they're all right. Dani would've known when he made the move that Jorge would be cutting back to the inside line, because that's what racers do. But he did everything he could by sticking very tightly to the inside of the corner. Once he was leaned over on the bike he couldn't see anything on the left and so had no idea where the Ducatis were.
Jorge would've been blind to Dani too, because his peripheral vision inside his helmet wouldn't have allowed him to see Dani until it was too late for him to do anything about it. But he should've been more aware that there could be another rider on the inside because if he'd been in Dani's position it's exactly where he would've been.
It was an ambitious pass, but you have to be ambitious to make an overtake at turn 6. You could have them replay that same incident 10 times and for the majority of cases they'd maybe have a little contact as they went for the same line but no-one would crash and they'd all just carry on.
Ultimately, the blame can be split pretty evenly between Lorenzo and Pedrosa, both should've been more aware but neither were reckless or dangerous with their actions. And Dovi should stop walking under ladders because his luck is awful.
The Spanish Grand Prix at Jerez saw Marc Marquez back on the top step of the podium in another display of dominance, but unlike some, I don't find that boring. The way he manages a race when he's able to pull out at the front is a marvel to watch, and if you don't want him battling because you think he's "dangerous" then you might have to get used to it, because when he can leave the others for dust, he will.
For Marc, it was his 63rd Grand Prix win and 37th in MotoGP, which equals Mike Hailwood's tally in the premier class with the 6th most victories on the big bikes. It was also his 105th GP podium and 66th in MotoGP, which continued the trend of having at least one Spanish rider on the podium at Jerez since 2004. It was, however, the first time since 2013 that the polesitter hasn't won the race in MotoGP (while the curse of the Moto3 polesitter not winning since 2005 continues).
Michelin also reached a milestone as they took their 400th Premier Class win and Bibendum even made a special visit to Parc Ferme to celebrate, getting a kiss from Iannone and a shaking from Marquez.
On Thursday, the Circuito de Jerez took on the name of the man who made motorcycling in Spain what it is today, Angel Nieto, and with a statue in tribute to him now in place, parade laps from his sons Pablo and Gelete on 2 of his old bikes, applause from the fans on the 13th (12+1) lap of each race, and a special bust going home with race winner Marc Marquez, it was a weekend that would've done him proud with great racing across the classes.
Now, attention briefly turns to testing, with many staying at Jerez for one day, although KTM will stay on Tuesday as well, while others will head to Mugello before everyone heads North to Le Mans for the French Grand Prix.
Marc Marquez now leads the championship by 12 points from Johann Zarco and it's the 4th change of leader in 4 races. What will Le Mans have in store? We have just 2 weeks to wait until we find out.