Cal Crutchlow secured his 4th MotoGP pole position under the sunny skies of Jerez with Dani Pedrosa and Johann Zarco joining him on the front row for the Spanish Grand Prix.
Marc Marquez had set the level in FP3 when he put in the fastest ever lap around the Circuito de Jerez – Angel Nieto, but in qualifying he was unable to match himself and will start from 5th tomorrow.
It was Suzuki's Andrea Iannone that first dipped into 1'37 in qualifying, before first Marquez and then Crutchlow took over the top spot. On the final lap, it was the British rider that laid it all on the line as he beat all circuit records with a lap of 1'37. 653.
With new rubber in both the front (hard) and the rear (soft) and temperatures heating the resurfaced asphalt up Crutchlow showed good 1 lap pace. In FP4 he showed decent race pace, setting his fastest lap of 1'38.967 on his hard front tyre's 20th lap, although paired with a new hard rear.
Despite qualifying back on the second row, Marquez still has excellent pace. Jerez hasn't always been the easiest track for the World Champion but he has an excellent podium record and apart from a couple of crashes as he looks for the limit, he's been looking very strong.
Dani Pedrosa is a welcome addition to the front row with the Spaniard still recovering from his broken wrist. There's less pain than 2 weeks ago in Austin, but Dani still lacks strength and the full range of movement. He's shown consistency in practice but hasn't quite been at the level of his team-mate over longer runs and a hot, physical race around Jerez will push him hard.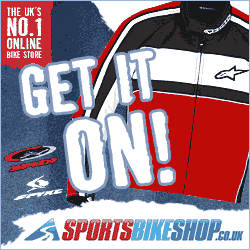 It was down to Johann Zarco to salvage things for the Yamahas again, with the Frenchman securing his 8th consecutive front row start. His FP4 pace was fairly consistent in the mid 1'39s so not the quickest but it should be possible for him to fight at the front.
The same can be said of the top Ducati, Jorge Lorenzo, in 4th. Turning is still proving problematic for the Spaniard but he's not too far off. His team-mate Andrea Dovizioso struggled slightly more, despite running the aero-fairing, and had to fight through from Q1 before securing 8th.
The Suzuki duo of Andrea Iannone and Alex Rins topped FP4, and Iannone, in particular, has looked good so far in Jerez. Both mentioned a need to improve in the slower corners on Friday, but both should be near the front and qualified in 6th for Rins and 7th for Iannone.
Both Pramac riders secured their places in the top 10 and Danilo Petrucci will start from 9th, with Jack Miller lining up in 12th. Both are showing decent pace, nothing amazing but not terrible either. Top 10 finishes should be expected on Sunday.
Then there's the factory Yamahas, and if you're having a sense of deja vu you're not alone. Both Valentino Rossi and Maverick Vinales have been struggling once again, with spinning reducing their tyre life and forcing them to slow down as they lack grip. Rossi stated the balance of the bike needed work on Friday, while Vinales said that it was moving too much and "the problems start again". Qualifying 10th and 11th respectively is less than ideal for the boys in blue, so there's a lot of work to do ahead of the race.
Crutchlow is showing good pace with the LCR Honda and says that he's feeling good with the bike, so a podium is definitely possible for the British rider as long as he doesn't make any mistakes. Marquez should be joining him, despite his qualifying position he's shown excellent speed and pace.
Tyre life will be key with the new surface, especially with the expected high temperatures and with the Hondas normally favouring the harder tyre that could play into their hands. The Suzukis could take a 3rd consecutive podium, perhaps with some challenge from Ducati and Zarco, while the Yamahas have work to do if they want to fight at the front tomorrow.