THERE'S A DEFINITE STYLE to a Hazan Motorworks bike: a hint of steampunk, lots of beautifully twisted and burnished metal, and impossibly elegant proportions.
It's an expensive endeavor, and Max operates in the same rarified atmosphere as Ian Barry of Falcon and the Japanese moto-artist Chicara Nagata.
Luckily, there are collectors and museums that have the funds to commission bikes like this, so the rest of us can enjoy them vicariously. But what happens when Max builds a bike for himself, with his own money?
This KTM is the answer. It's a far cry from his previous KTM build, the supercharged 520 that now resides in the Haas Motorcycle Gallery in Dallas. But it's a killer track machine, and just the thing Max needs when he wants to blow off steam.
Surprisingly, '950SMR' is the first bike that Max has built for himself. So it was done in the down time between the projects that pay his bills. ("I completely lost track of how much time went into it.")
The base is a 2005-spec 950 SM. It's a tall bike—which suits Max's lofty physique—with around 98 horsepower in stock trim, 17-inch wheels, and a dry weight of just 191 kilos (421 pounds). Contemporary road testers raved about the performance and fun factor.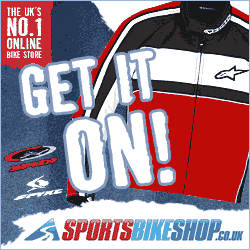 "It's possibly the ugliest bike KTM made with that motor," Max admits. "But the bones were there. The KTM was carbureted from the factory, which let me simplify the design by avoiding EFI parts."
Stylistically, it's no flight of fancy: just a well-sorted bike with terrifically simple bodywork and a sophisticated warm grey and white paint scheme. "I wanted the bike to look 'factory'," says Max.
"I wanted it to have fenders and bodywork, and not look like a KTM that was chopped. With almost everything being rearranged, it was a lot more work than it looks like. But I guess that was the idea."
It might be hard to believe, but Max has pulled around 100 pounds—45 kilos—off the 950 SM. ("It was built like a tank.")
So what's it like to ride? "It has a huge amount of engine braking," he says. "It's geared for about 120mph in sixth, and was in need of a slipper clutch to smooth out downshifts in the lower gears. But I just found myself 'backing it in' wherever I was going, as soon as I installed it."
Everything about this KTM screams 'track machine,' but it's actually 100% street legal. "It's wired for lights and turn signals, and has a full setup that can be taken on or off in a few minutes," says Max. "But I just prefer looking at it like this."
It's certainly a looker. But unlike many customs from premier league builders, Max's KTM offers visceral as well as visual pleasures. We can't imagine Max releasing a kit version of these mods, but if you have one of KTM's big supermotos in your garage, there's a ton of inspiration to be gained right here.
---
This article was first published on Bike Exif; For more details, photos and generally more awesome everything, visit Bike Exif.