Crowdfunded three-part drama aims to explore a world without motorcycles.
Imagine…
Motorcycles are outlawed. Gasoline is $20 per gallon. Self-driving cars are taking over. Silicon Valley and the United States Government have collaborated to push society toward a fully-autonomous transportation system. Motorcycles and riders are an easy first target in the drive to ban human-operated vehicles. Impossible, you say? Not so fast.
Pitching itself as a 'dramatic series' there's no doubting the angle that the filmakers of The Last Motorcycle on Earth is taking.
But whilst we here at MFHQ might not entirely share the political/conspiratorial notion of a global play by those 'in power' to control and monitor all aspects of our daily lives, there is a lot to respect about this intended, IndieGoGo funded film. Not least the quality of the proposed output – judging by its trailer – and the fact that somebody is at least attempting to ask the questions that many of us have about autonomous vehicles and the constant, technological creep into our automotive lives.
Writer / Director, Eric Ristau has this to say about his proposed work,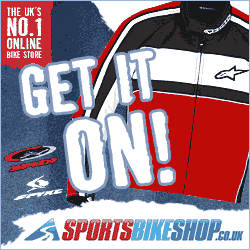 "Our current youth culture is largely focused on virtual experiences rather than the tangible, physical stuff past generations were drawn to– in this case, motorcycles, cars and expression of personal freedom through travel. More young people than ever are deciding against getting a driver's license and interest in ownership of vehicles by that group is at an all-time low. It is said that the last person to receive a driver's license has already been born.I love the culture of motorcycles and vintage automobiles- they've been a part of my life for as long as I can remember. I see a major cultural shift, maybe even a culture war, on the horizon– as the world's vehicles go electric and autonomous.  Is this symbolic of something larger?  
The story of The Last Motorcycle on Earth explores what happens if room is not left for motorcycles and vintage vehicles in new transportation systems across the world. What happens to people who have built their lives around motorcycling? What happens when technological and culture shifts are pushed by tech companies, government leaders and court decisions?  
Our story– told through the lives of a few characters– look at these issues and many more. We want this series to start a conversation and act as a cautionary tale, reminding us that the things we value can't be taken for granted."
Intended for a December 2018 release, the first hour-long episode is finished, whilst hours 2 and 3 are partially shot; which is why the movie is up for funding.
If this kind of thing seems like something you believe is worth supporting, then you can head on over to the IndieGoGo site to add to the hopeful total of $145,000 (it's currently sat at $12,100 at the time of writing with a month to go).
H/T: American V