If you thought Jack Miller's push for pole position in qualifying for the Argentina Grand Prix was crazy, it turned out to be nothing compared to what race day had in store for us.
We had a race start that was delayed, a grid that was one of the strangest you'll ever see, 3 penalties for 1 rider, crashes, and an incredible fight for the race win between 4 different manufacturers.
So where do we start? The only way to make any sense of what happened in Termas de Rio Hondo is to start at the beginning and hopefully get to the end without driving ourselves completely crazy.
Track conditions had already been complicated for both Moto2 and Moto3, with Marco Bezzecchi taking his first win in the lightweight class as the riders who gambled on slicks failed to reap the rewards, and Mattia Pasini securing a stunning intermediate victory in a "dry race", that was still wet, but saw the whole grid on slicks.
A cloud of confusion descended over Termas de Rio Hondo.
As the clock ticked around to MotoGP hour, everyone went to the grid on wets, with some riders doing an extra sighting lap, including Valentino Rossi who took slicks out for his first look before going back to wets.
Jack Miller was on pole for the first time in the premier class, and the Australian made the decision to switch to slicks on the grid. He had nothing to lose and the track was drying by the second, it was a risk worth taking despite the race being declared wet.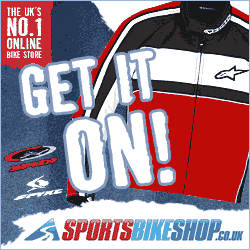 But then a cloud of confusion descended over Termas de Rio Hondo. Bikes further back on the grid started to be wheeled back to pitlane, with riders deciding to change to slicks ahead of the warmup lap. This was unfair to Jack who had taken a risk and you have to ask if they should've been allowed to leave the grid when MotoGP is flag-to-flag anyway. With just minutes to go before they were supposed to get started, the grid only had Jack Miller sitting on it and pitlane had riders, bikes and team personnel going in all directions.
Unsurprisingly, the start was delayed due to safety conditions, and the riders who had squeezed themselves 5 abreast at pit exit had to push their bikes back up pitlane to their garages. IRTA, Race Direction and team managers then had an impromptu summit on the grid to work out what the hell was happening, while everyone else just stewed in a bowl of confusion and stress, as light rain started to fall again (thankfully it didn't last long).
10 minutes after the race was supposed to have started, rider numbers were going back on grid positions, but in some very odd places, as the grid was reformed with everyone who left being put to the back.. but when there's 23 of them there's not a lot of room, so they were placed in order of qualification giving Jack Miller about 4 rows of space behind him on pole position.
Quick-start procedure was declared, riders had 60 seconds to get out onto track when pitlane opened, there would be 1 sighting lap, then a warmup lap, then the race would be 24 laps (1 less than the original distance).
And that was all the drama there was before the race started.
Just kidding.
Marc Marquez then stalled his bike after the warmup lap. The rules mean that you have to then remove your bike to pitlane, but he had space in front of him that wouldn't normally be there so he managed to give it a push start and the Honda was living once more. There was some confusion as to whether he was told to go to pitlane or his grid spot, but he felt he'd been given permission to start from the grid, so he rode the wrong way up the grid (strike 1 – you're going to want to keep count) and turned his bike around behind Alex Rins before getting back to where he was supposed to be.
Now, briefly ignoring the fact that he broke the rules, it was some great bike skill on show from Marquez. MotoGP bikes aren't easy to start on your own and he unsurprisingly showed great handling to get back into position. But he did break the rules.
With Marquez now in position, we could finally start. The lights went out and Jack Miller led (duh) from Dani Pedrosa, Johann Zarco and Marc Marquez. Zarco then had a wobble on a wet patch that let the World Champion through into third, who then went on to make a forceful but fair pass on his team-mate Dani Pedrosa for second.
Coming into turn 13 on lap 1, Zarco attempted to pass Pedrosa but pushed them both wide and Pedrosa hit a damp patch and was high-sided to the moon, slamming down hands first. I don't think there was anything particularly wrong with the pass, it was definitely a hard one and probably a bit much for the first lap of the race with wet patches, but for me, Dani was just unlucky.
Back out front and Marquez was in the lead, while Bradley Smith had shown great progress; moving up 12 places to 9th. White flags then started to be waved, indicating that pitlane was open for bike swaps.. which was the last thing this race needed so thankfully no-one did.
There was simply no room and Marquez just went in too fast and too aggressive.
As the riders came around to start lap 4, Race Direction put out the message that Marc Marquez was under investigation for his actions at the start, but the man himself was pulling away with a 1.5 second gap over Jack Miller in second. Two laps later and the decision came through; Marquez was given a ride-through penalty for riding in the opposite direction during race start procedure.. As the message flashed up on his dash, the Spaniard seemed to momentarily lose his concentration, but came in at the end of the lap.
With Marquez touring down pitlane before rejoining in 19th, polesitter Jack Miller was now leading again, with Rins, Zarco and Crutchlow following behind.
Unfortunately for everyone else on the track, giving Marquez a penalty, and in turn, a lot of work to do, seemed to unleash a wild animal in the World Champion. He was so much quicker than the rest and that soon became a real problem.
On lap 9, as they came through turns 12 and 13, Marquez entered far, far too hot on Aleix Espargaro, making contact with his compatriot's rear tyre and leg, pushing them both wide. There was simply no room and Marquez just went in too fast and too aggressive. (Strike 2).
Unsurprisingly, Marquez was again penalised. This time he was told to drop 1 position, but due to a little confusion decided to play it safe and drop 2, letting rookie team-mates Morbidelli and Luthi past, before soon repassing them. It didn't slow or calm him down though, as replays also showed him going in pretty hard on Taka Nakagami.
Then came lap 20 and the moment that will sadly overshadow this Grand Prix for a long time to come.
Back to the front and Miller was still leading, with a gap of 0.4 and the top 4 all running in the low 1'41s. The Australian soon come under attack though, as, with 14 laps to go, Alex Rins made his move. The Spaniard took the lead but ran wide letting Miller back through, something which repeated itself over the next couple of laps, while Aleix Espargaro retired with a technical issue.
Lap 16 and Alex Rins made a brave pass on Miller at turn 6 and this time made it stick.. for all of 1 lap. He ran wide which let Miller back into the lead, with Crutchlow and Zarco also following through.
Two laps later and Marquez passed Dovizioso for 7th, while Bradley Smith crashed out at turn 1, before Miller almost lost the front at turn 13 after running wide, this time giving Cal Crutchlow the lead in the race. The front runners were all having some visible struggles with their bikes as the track dried and their tyres reached the end of their life.
Then came lap 20 and the moment that will sadly overshadow this Grand Prix for a long time to come. At turn 13, where Marquez had already come together with Aleix earlier on, he again came in too fast, but this time it was Valentino Rossi in front of him. As they both went for the same piece of asphalt the pair came into contact before Marquez pushed them both wide, resulting in Rossi crashing as he touched the grass.
Marquez was quick to raise a hand in apology, but as Rossi picked his bike up, now complete with some Argentinian foliage, I'm not sure he was particularly interested. (Strike 3).
In the leading group, Zarco had found his way to the front and maintained the position for a couple of laps before Cal Crutchlow took advantage of the slipstream on the back straight. With 1 lap to go the podium was complete and as the British rider crossed the line to take the chequered flag, he not only took his 3rd MotoGP win but also Honda's 750th Grand Prix victory. After all the stress of the day, it's not that surprising that LCR team boss Lucio Cecchinello sank to his knees in joy and relief with his rider now leading the World Championship.
Johann Zarco took another podium, his 4th in MotoGP, while Alex Rins came home in 3rd to secure his very first top 3 finish in the premier class. The man who'd been on pole, Jack Miller, took the flag in 4th, which is still an excellent result for him on just his second race with the Pramac Ducati.
The fact that 3 of the top 4 were from Independent teams is also an important one.. regulations that level the playing field work!
Sadly, much of what the top 4 achieved was slightly overlooked because of the antics of the World Champion, who received his 3rd penalty of the day when Race Direction gave him a 30 second penalty (a ride-through equivalent) after the Rossi incident, which dropped him down to 18th in the standings, 1 position ahead of where the Italian finished after rejoining.
But before we get into that, let's round up the riders who didn't almost lose their minds.
Race winner Cal Crutchlow was unsurprised by his victory, saying that he'd come into the Argentina weekend expecting 1st or 2nd and rightfully pointing out that if he didn't believe he could win, then he'd stay in the garage. The series leader rode a sensible race, avoiding risks and even taking different lines to those around him in case any of them crashed. Throughout the weekend he was the closest in terms of pace to Marquez and it was an excellent performance from the British rider.
His team-mate Takaaki Nakagami brought home his first MotoGP points in 13th and made a great recovery from a difficult qualifying position. The rookie is still very much in learning mode, but found strong pace from the middle of the race and rode well.
Crossing the line in second was Frenchman Johann Zarco, who ran into a lot of criticism for his crash with Pedrosa. It was an aggressive overtake, especially considering the track conditions and the fact that it was lap 1. But I do believe it was a mistake, so a penalty isn't really needed, but with his previous form, Race Direction might want to have a stern word and warn him that next time there will be repercussions.
Tech 3's other rider, Hafizh Syahrin finished in 9th, making it a great day for the French team.. the Malaysian rider rode well, had good pace and pushed hard. There were some raised eyebrows when he was brought in to replace Folger but he has already more than earned his place.
Third went to Suzuki's Alex Rins, who was understandably delighted with his first MotoGP podium. He'd been a bit nervous at the start (understandable) but felt comfortable and despite making a few mistakes when leading, was happy with his race and is already looking forward to Texas. Last year was a hard year for Alex due to injury but this year he looks so much better, especially combined with a stronger package from Suzuki.
The other blue machine was brought back in 8th by Andrea Iannone, who had decent pace but made some mistakes when overtaking that stopped his progress through the ranks. Overall, a very positive weekend for the Hamamatsu team.
Jack Miller had been left all alone on the grid when everyone else ran off and while he wasn't able to convert pole position (and 4 rows of empty space) into a second MotoGP win, it was still a fantastic race and weekend for the Aussie. His pole lap was incredible and both he and the team did a great job during the race. He was the only rider to take the initial gamble on slicks and definitely deserves some praise for that.
Pramac team-mate Danilo Petrucci turned around a difficult weekend to finish 10th despite losing some time on the last lap due to contact, but will hope that the issues with feel and grip that he encountered earlier in the weekend don't return later in the year.
5th place had initially gone to Marquez, but after his penalty, Maverick Vinales moved up to take the position and was happy to have found so many areas to improve in both wet and dry conditions. He was less pleased with his position as towards the end he'd been running the same pace as the front-runners but after some tricky points over the weekend, especially in qualifying, it's a decent result.
While Vinales benefited from Marquez's penalty, his Yamaha team-mate Valentino Rossi suffered due to the move that made it necessary, finishing in 19th. Thankfully the Italian was unhurt, but to say he was unhappy is a gross understatement. Before the crash, he'd been riding ok, not really a podium threat but still in a position to take home decent points. Don't worry I'll be coming back to him later, but it was also interesting to see him run the aero during the race.
Qatar race winner Andrea Dovizioso finished 6th after a very difficult weekend for last year's championship runner-up. He'd never quite got there with pace and speed in Argentina, a track he knew he could struggle at, but he handled the race well and at least no-one knocked him off this year!
Fellow Ducati rider Jorge Lorenzo fell foul of the mixed conditions, finishing in 15th. The drying track with wet patches isn't happy racing turf for Jorge and after last year's crash he was cautious to avoid contact at turn 1. It was a strange weekend for the Spaniard; with speculation on his contract, interviews mentioning his team-mate taken out of context and an aero package he doesn't like because it pushes the front but chose to run because of the front feel it gives. Hopefully, things will settle down for Jorge in Austin, so he can start finding his footing with the GP18.
Another rider on a Ducati, Tito Rabat, brought home his best MotoGP finish in 7th after having an equally excellent qualifying that put him 4th on the grid. Riding in the front group was good experience for the Avintia rider and he is really impressing since he moved away from Honda.
Rookie team-mate Xavier Simeon finished 21st after making a mistake in the early laps that lost him time and also struggling with grip issues in corner entry and on acceleration. The positions weren't impressive in Argentina for Simeon, but he did make progress from Qatar and that's always the most important thing.
11th went to Pol Espargaro on the KTM, who obviously wanted more but with all things considered it's a decent result. He found that he struggled for grip in the dry and there's clearly more work to do, but it's a far better result than Qatar.
Marc Marquez eventually finished 18th after his penalty.
Bradley Smith was unable to bring his KTM to the flag after crashing out. He lost a lot of time after coming into contact with multiple riders, but then went offline at turn 1 and lost the front. The Brit was taking positives from Argentina though; he found a good feel this weekend and that bodes well for Texas.
Next up was the Aprilia of Scott Redding in 12th who was struggling with some serious back pain throughout the weekend. He was losing time on the straight but was able to even things out on the rest of the circuit and after a long race he was happy overall.
Aleix Espargaro was forced to retire with a throttle issue that caused issues in low-speed acceleration, but his race was obviously also impacted by Marquez. He also had some contact with Petrucci and said that the pair "took some avoidable risks".
14th went to Marc VDS rookie Franco Morbidelli who stayed careful in the early laps and was happy to bring home some points after a tricky weekend, while his team-mate Tom Luthi took the flag in 17th after reaching his tyre's limit at the end and having to fight his bike's sliding. For both rookies, every lap is a learning experience and it's good that both finished a difficult race.
The Angel Nieto team riders Alvaro Bautista and Karel Abraham finished 16th and 20th respectively, with Alvaro struggling to get his tyres up to temperature at the beginning but finding good pace and grip later on, and Karel having issues with contact, a brake issue that put him in the gravel, and multiple warning lights from his bike.
Finally, there's the Repsol Honda team. Dani Pedrosa was high-sided out on lap 1 and will be having his right wrist checked in Barcelona on Tuesday. With him still healing from a hand injury in testing, hopefully this won't be something that holds Dani back for long.
Marc Marquez eventually finished 18th after his penalty and this seems like a good time to really look at what went on with the World Champion in this race.
He wasn't riding with care and in a couple of cases he was downright irresponsible.
Starting at the beginning, when his bike stalled. The rules say that if you cannot start your bike you must go to pitlane "where he (the FIM hasn't embraced gender neutrality) may make further attempts to start it". Now, this is where it gets tricky. Should he have been allowed to attempt to start it on the grid? Technically no and in a normal situation, there wouldn't have been the space for him to start his bike the way he did. But then once it's running, should he still go to pitlane?
Some of the officials looked as though they were telling him to go to pitlane, but Marquez says he felt he'd been given permission to go to his starting position. But seeing as they gave him a penalty for going in the opposite direction on the grid, it doesn't look like they did.
Either way, the ride-through penalty came as a surprise to Marquez, but he still came in for straight away. Unfortunately, putting him in 19th, when he had been so much quicker than everyone else all weekend, meant that he was carving through the riders in front of him at a terrifying rate.
Why is that a problem? Because he wasn't riding with care and in a couple of cases he was downright irresponsible.
With Aleix, he went in too hard, too hot and too fast, where there simply wasn't room. It was unnecessary and the 1 place penalty wasn't really satisfactory, because he didn't learn from it. It didn't calm him down or make him take more care with riders.
When he came upon Rossi, he was going so much quicker that he could have passed him with ease anywhere on the track. He chose turn 13 when the front straight was just 2 corners away. Again, he came in too fast and while at corner entry there was more room than there had been with Aleix, knowing Valentino would be turning into the apex (because..duh) it was a reckless move that has no place in MotoGP.
Did he mean to come into contact with Rossi? Valentino will tell you yes, "he do purposely.. he point the leg between the leg and the bike". I don't agree that it was intentional, or that any of Marquez's moves were, for me it was just careless, which is almost worse.. carelessness gets people killed.
Marquez's explanation was that he'd hit a wet patch, locked the front and released the brakes to avoid crashing. That makes sense, but he put himself in that position, not once but twice, at a corner everyone knows is problematic. He shouldn't have been making a move that aggressive in that place, it was completely unnecessary.
Speaking after the race Valentino pulled no punches saying "he destroyed our sport.. if you start to play like this you raise to a very dangerous level.. you have to have respect for your rivals.. like this, it's over.. this is dangerous.. we are MotoGP, we are the top of motorcycle.. if everyone is like this, it's like destruction derby.. he don't play clean, he don't play aggressive, he play dirty".
Now let's not all lose our minds, what happened in Argentina hasn't destroyed the sport, it survived 2015 so it'll survive this, but Valentino is right in that it is dangerous, it does take it to a different level and respecting each other is key to everyone coming home safe at the end of the race.
But it doesn't paint MotoGP in a good light and it's controversy we really don't need. However, there were a lot of people getting pretty angsty yesterday, so I'm going to address a few things. If you managed to not lose your mind, feel free to skip this bit.
Previous clashes: 2015 has nothing to do with Argentina. Sepang was the product of Rossi (wrongly) accusing Marquez of interfering with his title fight and the pair both acting out on track, and no I don't believe Rossi deliberately caused Marquez to crash either, he just went too far. What followed was a level of hostility I have no desire to see return to MotoGP and it was only dampened when we lost Luis in Barcelona. Let's not go there again, you, as fans, are better than that.
Some pointed out how much everyone, Rossi included, enjoyed the battle in Phillip Island when everyone was clashing fairings and swapping paint. But that's very different, because while yes they were aggressive, they weren't dangerous and they were all riding at the same speed. That's the opposite of 1 rider not taking care around riders he's so much faster than.
Then there are apologies. Marc arrived back into the garage, and according to Honda boss Alberto Puig, the first thing he wanted to do was to go to Yamaha and apologise, so he did. Unfortunately, he wasn't allowed to. I called that unacceptable at the time and I stand by that, because it wasn't a member of the Yamaha team who said "hey, maybe later", it was Valentino's friend Uccio. If one of Yamaha's management thinks it's not the best time that's fine, but when Valentino is in the box and Marc is there, just let him say sorry.
Apologies don't have to be accepted. When Valentino crashed into Casey Stoner in Jerez his apology was greeted with the greatest response in motorcycle racing history, "your ambition outweighed your talent", but he was still given the chance to say his piece.
Rossi criticised Marquez's apology attempt, saying he hadn't come alone and that it had been for the cameras. When he went to Stoner, he went with members of the Ducati team, was followed by the Dorna camera crew and didn't remove his helmet.
It's simple sportsmanship to go and apologise (such as when Pedrosa took out Dovizioso in Austin) and to allow your rival to give their apology. You don't have to accept it, you can turn around and walk away, but everyone makes mistakes.
Marquez was irresponsible on track, there's no doubt about that, but Rossi hasn't handled it particularly well off track either.
Finally, Race Direction. For me, they made a huge mistake when they didn't penalise Aron Canet in Moto3 after he took out Yurchenko on Friday. Canet felt the other rider had got in his way, waved his arms around, had a brief tantrum, then pulled in front of Yurchenko causing both of them to crash. I also don't think that crash was deliberate, but I don't believe Canet when he says it was a complete mistake, for me he wanted to get in his way in retaliation and it just went wrong.
Race Direction should've given him a back of the grid start at the very least and shown a strong message that behaviour like that has no place in Grand Prix racing.
On Marquez, the first ride-through was right, he should've been given a harder penalty for his move on Aleix and that might've stopped him from his clash with Rossi. Is a 30 second penalty enough? It's basically the same as disqualification, he gets no points but I'm not sure it's a hard enough message.. A grid penalty for the next race as well might have been a good idea.
Marquez was irresponsible on track, there's no doubt about that, but Rossi hasn't handled it particularly well off track either. Regardless of which side you're on in this latest drama it's important to remember that every single rider, regardless of class, position or number of championships, is a role model to both current and future riders.
Everyone needs to take the next two weeks before Austin to take a step back, have some deep breaths and realise that ultimately we all want the same thing; good, fast, safe racing.
MotoGP has one of the best atmospheres you'll find in sport, we're a family, let's not forget that.