You too can design the best – or most hideous – custom leathers available.
If you were wondering why the quantity of articles on Motofire has recently slowed to a snail's pace, you'd be forgiven for thinking that it's to do with the fact that we've put the site up for sale.
BUT if we're being honest, the last couple of day's worth of articles didn't get published because we were too busy messing about with Dainese's new custom works configurator for their race leathers.
Seriously, go and take a look, it's brilliant… And you can pretty much alter every component of your race suit.
Accessible via the website, the brand-new 3D configurator allows each motorcyclist to completely personalise their leather suit, jacket or pants in real time, with a simple, set of interactive toggles and widgets.
You can even upload logos and words.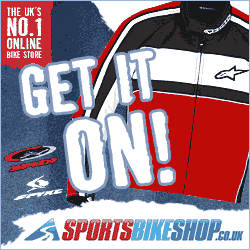 Once it's all done, you then just need to make an appointment with your local Dainese custom works centre who will then take your measurements and get you on the way to one-off Dainese suit heaven.
OR you could get the design we produced made in honour of Motofire and you'll be well on your way to the Milan catwalks!
Source: Dainese