To call 'Turbo Maximus' a restomod would be selling it short. It's a re-engineered masterpiece.
A week ago we stumbled across this remarkable Yamaha at the Forged Invitational show. 'Turbo Maximus' took top honors at the Jekyll Island event, which is not surprising when you consider the XJ900 engine transplant, the properly engineered turbo conversion, and the delicious race replica bodywork.
A few days ago, owner Derek Kimes wheeled the Yamaha into the studio of the man who captured the atmospheric images from the show—photographer Steve West. And so we can now dig into the story a little more.
Derek is a relative latecomer to the world of bike building. After serving eight years in the US Navy, he left the beaches of San Diego and moved to Atlanta to pursue a degree in engineering. While studying, he started working on bikes to learn hands-on skills, and found out that Bryan Fuller's shop was located nearby.
"My savings were drying up and I needed a part-time job. I sent an email to Bryan and to my surprise, he responded. I started working part-time, sweeping floors, taking out the trash and doing small tasks to help the guys at the shop."
"I am so grateful that Bryan gave a guy with no real fabrication or welding background a chance to prove himself at his shop. Without that chance, this bike would never have happened."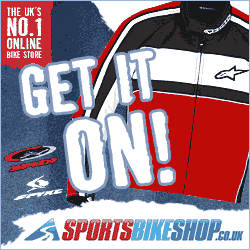 Derek spent many nights and weekends in the shop, working on his skills after hours. But despite that, this is the first and only bike he's ever owned.
"I bought it used, in completely stock form, in 2005," he recalls. "It's a 1982 Yamaha XJ750 Maxim, originally painted black. I enjoyed riding it but wanted to make it better."
Then Derek fell in love with the XJ750R (0U28) that raced in Japan in the 1984 Suzuka 8 Hours—the only XJ series bike that Yamaha prepped for the track. And that's where the inspiration for this restomod came from.
"I thought to myself, how would an OEM build this? I have learned to respect the amount of engineering that a manufacturer puts into a model; matching the quality level of OEM parts is a very difficult task."
So Derek decided to transform his old XJ750 into a modern, fuel-injected, boosted superbike. "People said I was crazy—why do that to a tired old XJ? I wanted to prove them wrong."
The 750 engine came out, and a 1983 XJ900 mill was swapped in. It's been been fully rebuilt by NASCAR engine builder Jordan Hersey of Atlanta, GA, with 9:1 custom forged pistons, adjustable camshaft sprockets from an FZ750, and titanium valve springs from Kibblewhite.
The turbo system itself is extremely neat. "I wanted it to look like the bike was designed originally to be turbocharged. You see so many turbo bikes with the turbo hanging way out, or the charge tube is wrapped around the engine."
To avoid this, Derek chose a Borg Warner S1BG turbo. It's big enough to give him the 200 horsepower (on E85 fuel) that he wanted, but small enough to tuck in between the frame and front wheel.
To hide the intake charge pipe, he's cut a channel on the bottom right side of the tank, so it can travel straight back from the intercooler. Above the turbo there's a custom Bell intercooler—which left a problem with locating the oil cooler. So the oil lines are now routed underneath the bike to the rear, where an Earl's oil cooler sits just in front of the back wheel.
Despite the extensive engineering on the engine, the front part of the frame is original. Further back, Derek's fabricated a new tail section and swingarm, converting the rear suspension to a monoshock setup using a 5-way adjustable piggyback rear shock.
It's not just a grinder job. Derek had the frame laser scanned, measured and straightened at GMD Computrack for precise alignment, and powder coated for protection.
Then he installed forks from a 2015 Yamaha R6, upgraded with Traxxion Dynamics AK-20 cartridges. And to prevent wobbles when the full 200 horsepower kicks in, there's an adjustable Öhlins steering stabilizer.
The quality of finish on the bodywork is just as astounding as the engineering. The front fairing is a F1 replica by Airtech Streamlining, heavily modified to fit with the help of fiberglass specialist Patrick Henry of Atlanta.
Keen eyes will spot that the tank is from a Yamaha XS750. Derek relocated the mounts to install it on the XJ750 frame, and then topped it off with a Racefit fuel cap. The tail unit is a completely custom one-off though, with a seat upholstered in Alcantara and black leather.
To call 'Turbo Maximus' a restomod would be selling it short. It's a re-engineered masterpiece, and one of the few occasions where mechanical brilliance is matched by a keen eye for aesthetics. We can't wait to see what Derek builds next.
---
This article first appeared on Bike Exif; It's republished here with permission.