Under the floodlights of Losail, the 2018 season of MotoGP got underway with another fantastic race that sets the scene for an exhilarating year of racing.
Johann Zarco started from pole after a blistering lap from the Frenchman obliterated the 10-year pole position record from Jorge Lorenzo, with Marc Marquez and Danilo Petrucci joining him on the front row, after they also went under lap record pace.
As the lights went out for the first time this year, it was Zarco that led into turn 1 with the Repsol team-mates, Marquez and Pedrosa, slotting in behind. The Italians Andrea Dovizioso and Valentino Rossi went in opposite directions, with Dovi back in 9th and Rossi up to 4th as he passed Petrucci on the first lap. As the riders came round to scratch off lap 1 of 2018 Marquez slid up the inside of Zarco at turn 16 to take the lead, but thanks to slipstream the Frenchman was back in front again at turn 1.
The biggest mover of the first lap was Bradley Smith, who moved up 6 places to 14th, while Maverick Vinales found himself falling back to 15th.
Lap 3 and Rossi made his move on Pedrosa to take third at turn 1 on the brakes. Petrucci attempted to follow his compatriot at turn 10, but Pedrosa fought back and kept the position until the Ducati's power proved superior on the front straight. Pedrosa subsequently lost another place to his fellow Honda rider Cal Crutchlow, with Andrea Dovizioso following not long after, leaving the Spaniard to fight for 7th with Alex Rins.
"All the wolves behind just want to take my arm" – Rossi
At turn 4 on lap 6, Rossi made another move, this time on Marquez as he took second with a smooth pass up the inside. Back in 13th, his team-mate Maverick Vinales was showing the same pace, with the Yamaha pair two of the fastest on track, but a poor qualifying and start meant a big difference in position.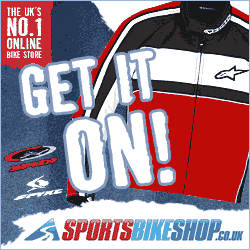 For a few laps not much changed, but on lap 11 it was again Rossi that was making progress. As he pulled out of the slipstream of his fellow Yamaha, he almost took the lead past Zarco but just ran in too hot with the Frenchman dragging them both wide and Marquez slipping in between to reclaim second. It proved to be a difficult lap for Rossi, which he described as "all the wolves behind [insert growling] just want to take my arm", as he was then passed by Dovizioso, before coming under attack from Petrucci as his front-end was visibly unstable around the Qatari circuit.
Dovizioso had now turned his attention to Marquez and passed his 2017 title-rival for 2nd at turn 1, while Rossi had settled back down and Petrucci had been passed by Crutchlow as the British rider moved to 5th.
Until lap 13 all 24 riders were still standing (sitting?) but that changed at turn 2 as Alex Rins crashed out after running onto a dirty part of the track and losing the front shortly after passing Petrucci. He was joined in the DNF ranks a couple of corners later when Jorge Lorenzo was forced to abandon ship due to a front brake failure. Back out front and Marquez was back in front of Dovizioso, as Zarco was attempting to pull away and the World Champion had recognised the need to stick with the French rider.
Lap 15 and Dovizioso took second back from Marquez on the front straight, while Vinales had now moved into 9th with 8 laps to go. As the riders made their way through turn 14, Marc took a long look over his shoulder at the chasing pack as he tried to gauge the competition. One lap later and Pol Espargaro pulled into the pits to retire after the electrical issue that had plagued him in qualifying returned, while Petrucci was being closed down at a rapid rate by Vinales, who was still showing incredible pace in the 1'55s.
Qatar is an odd race
With 5 laps to go, Dovizioso hit the front as he passed Zarco at the start of lap 18. Marquez followed the Ducati through, but with the Honda wiggling and no room to brake, it took all of his extraordinary skill to pull the bike up and make it into the first corner and keep the position. For Zarco, this was the end of his time at the front as his tyres had been pushed too far and those around him still had a little life and pace left. Rossi passed him for third, while the other Yamaha of Vinales continued to close in on Petrucci, who in turn was chasing down Pedrosa.
Petrux caught the Samurai for 6th on the next lap, while Crutchlow made it past Zarco, with the rider who had led so much of the race now in 5th. Meanwhile, the current leader, Dovizioso set the fastest lap of the race on the 19th, showing just how well he had managed his tyres and kept his true pace until the end, with Marquez and Rossi doing the same as they both set personal best times.
Andrea Dovizioso came into this race as the favourite
With two laps to go, Petrucci moved past Zarco into 5th, before Vinales secured 6th position after passing Pedrosa and Zarco in quick succession. Then it all came down to the last lap. Rossi was secure in 3rd, but would Marquez make a move on Dovizioso? Who are we kidding, it's Marc, of course he did.
Into the last corner Marquez moved up the inside, but as with the previous iterations of this same fight Dovizioso cut back and powered for the line to take the first win of the 2018 season, his 9th in MotoGP.
Qatar is an odd race for a few reasons; it's the first race of the year, the schedule is a mess, the race is at night and the track conditions change at will. But since 2002 there have only been 3 occasions when the rider crowned World Champion didn't stand on the top step of the first race (2008, 2015 and 2017), and Losail has hosted the season opener for 12 years. Will 2018 follow the trend and see either Dovizioso, Marquez or Rossi lift the trophy in Valencia?
Regardless of what it means for the championship in 8 months time, it was a fantastic way to begin the year and perfectly prepares us for the next 18 rounds.
For Andrea Dovizioso, he came into this race as the favourite. Losail suits the Ducati and it's of no surprise that he was standing on the top step on Sunday evening. He didn't have a good start but thanks to his excellent tyre management combined with his superb pace that allowed him to progress without pushing too hard, when he did reach the front he still had enough left to keep Marquez at bay.
For the other Ducati of Jorge Lorenzo, it was a weekend to forget
After Austria and Japan Dovi knew to expect Marc in the last corner and the usual strategy of cutting back on the inside, again worked perfectly. But there is a reason to be wary of this deja vu continuing. As Marc pointed out, these last lap clashes have come in tracks where he's not as strong. In happier hunting grounds the score might start to be evened up, maybe he just needs to try it around a left corner for a change? Either way, it's a guaranteed way to keep everyone's nerves on a very ragged edge.
For the other Ducati of Jorge Lorenzo, it was a weekend to forget in many ways. On Saturday he lost time with technical issues, while on Friday he'd had to swap bikes due to his chain rubbing. In the race, he didn't have a great start due to wheelie and then he noticed an issue with his front brake from lap 2, which he put down to him overheating it, so tried to use it a little less. Unfortunately on lap 13 as he negotiated his way around Iannone, he found he couldn't stop and "needed to jump from the bike to avoid hitting the wall". As Jorge pointed out, it's a good thing that it hadn't happened a few corners earlier at turn 1 and thankfully he walked away unhurt.
The man in second traditionally doesn't feel at home in Qatar, something his team capitalised on for their own entertainment when they sent Marc a dash message saying that he was being followed by his brother Alex in FP3. But this weekend, he was there. The only session he topped was the warmup, but he'd demonstrated he had a good pace over race distance and that in qualifying he could do a single quick lap as well. The hard front tyre he'd chosen was a little bit tricky to handle in some of the left-hand corners but he rode a really great race, and it just wouldn't be Marc if he hadn't tried to squeeze past Dovi in the last corner. In his own words "I try and now I can sleep well this night".
His team-mate Dani Pedrosa had been pretty quiet over the weekend but was held back by his rear tyre in the race due to excessive spinning. The good news is that Dani had a good feel with the hard front, particularly in braking. He found setup improvements in FP4 and while the pace wasn't at the same level as Marquez, 7th isn't a terrible start to the year for Dani.
After signing a new two-year contract, the usual critics crawled out of their dark holes to question what else Valentino Rossi had to offer as he starts his 23rd year in Grand Prix. Well in Qatar, he showed them and summed it up in the post-race press conference "in our sport, like in all the sports, just one thing is important; the result. You can speak a lot, but after, the only important thing is what happen on the track. I don't race to demonstrate to the people that I'm not too old. I race just to demonstrate to me that I can stay at the top."
For Maverick Vinales, he hopes this race is a turning point
Valentino felt good on the bike and had decent pace, but tyres were a worry, particularly the longevity of the front. For raceday, he decided to forget about the rubber and focus on the speed, "we try everything to go fast, and if after, the tyre resist, it resist, if not ciao". It worked, he was able to battle well with the other riders and keep a good pace until the end that kept his podium position secure while he enjoyed the Dovi/Marquez show from behind.
For Maverick Vinales, he hopes this race is a turning point. He was struggling to get a good feel on the bike until he convinced his team to try a stiffer setup. This gave him the feeling he'd been missing and it showed in his pace during the race. A bad start compounded the problems of a poor qualifying, but he had the same speed as the leaders for much of the 22 laps and recovered very well to 6th. 2017 didn't end so well for the Yamaha team, but if they can take the momentum they've found in Losail forward and continue the improvements, particularly with the electronics, the future should be brighter.
Taking the chequered flag in 4th was LCR's Cal Crutchlow who had aimed for the podium but was unable to catch the riders in front, as he could match their pace but not better it. The British rider came away from Qatar happy though, with a good points haul at a track he hasn't finished at in the last two years.
Joining Crutchlow in the LCR garage this season is Japanese rookie Takaaki Nakagami, and it hadn't been the easiest debut weekend for Taka. On Saturday he had a big crash the first time he ever used the hard front tyre, followed by a technical issue on his second bike, so qualifying in 23rd wasn't ideal but he gained a lot of experience over 22 laps and learnt a lot from the riders around him.
Danilo Petrucci was another rider not entirely satisfied with their final result as the Italian brought home 5th after starting on the front row and being in the front group for the entire race. He recognised that he'd had the potential to finish on the podium, but the soft front tyre hadn't given him quite enough in braking and turning. The weekend, in general, was very positive for Petrux though and it's good to see he's carried forward his excellent form from 2017, it looks to be another great year for Danilo and that first win might be coming soon (which would definitely make the amount of weight he lost over the winter worth it!)
With 5 laps to go, Johann was struggling
His new Pramac team-mate Jack Miller had a decent race to 10th, despite losing some front feel, especially in right-hand corners. The Australian is still looking for improvements from his new-to-him Ducati but he looks a much happier and more comfortable rider already this season.
Then it's time to look at the race leader for 17 laps, Johann Zarco. He'd already blown everyone away in qualifying after finding the confidence he'd been missing until that point, with his team boss Herve Poncharal conceding that the pressure and the expectation had been affecting him. In the race, he got a great start and much like 2017, he led well, although this year his time at the front lasted longer and didn't end in the gravel. But the front tyre had its limit and with 5 laps to go, Johann was struggling with sliding and couldn't turn onto the right side properly.
It was a mixed result for Suzuki
While the Frenchman was undoubtedly impressive out front it's important to recognise that the riders behind him weren't necessarily pushing as they all had to save their tyres. Dovi explained, "he was struggling a lot, he didn't have the grip, he use too much the tyre.. he lead the race because we wanted, because everybody save the tyre".
On the other side of the Tech 3 garage is rookie Hafizh Syahrin, who made history as the first Malaysian rider in MotoGP. A late addition to the grid after Jonas Folger ruled out a return from illness this year, Hafizh has definitely impressed and did so again in Qatar. 14th on his debut after only completing two tests with the bike is a great result and brings more experience for the Malaysian, particularly with managing different engine maps during the race.
It was a mixed result for Suzuki with Andrea Iannone taking the flag in 9th. The Maniac had a good start but had issues with front feel during the race, thankfully he thinks they should be easily resolved, which meant he focussed on finishing the race and bringing home some points. He'd struggled with the front throughout the weekend but showed good pace while Alex Rins started his season with a baptism of gravel after crashing on lap 13 but remained optimistic after a very impressive weekend where he found a good feeling with the bike.
Just outside of the top 10 was Tito Rabat who had a difficult start to the race but found some decent pace as the laps continued. 11th was a good comeback from a complicated Saturday and the signs look good for Tito this year, as he's visibly more comfortable on the Ducati. Rookie team-mate Xavier Simeon is finding the step to MotoGP a little trickier than his fellow former Moto2 riders, but Sunday was his first time doing a full-race distance on a MotoGP bike and the fact that he stayed calm and saw the chequered flag is a positive sign and he'll benefit from the experience.
Moto2 World Champion Franco Morbidelli crossed the line in 12th after an impressive race that was "a better result than I expected" and definitely a good way to kick off his rookie year, while team-mate and fellow debutant Tom Luthi also performed better than he had thought in 16th, despite some braking issues.
The Angel Nieto Ducatis of Alvaro Bautista and Karel Abraham finished 13th and 15th, with Alvaro losing time at the start as he struggled to get heat into the tyres and Karel having to take avoiding action, while also needing to deal with the front of his bike shaking and a lack of grip.
The Qatar Grand Prix was a spectacular season opener.
Bradley Smith brought the KTM home in 18th after the front tyre performance dropped after just 10 laps and left him battling understeer, while Pol Espargaro retired with an electrical issue. KTM have definitely made a step forward from last year, but so has everyone else. Both suffered technical setbacks in Qatar and Pol is still recovering from hernia surgery, so hopefully, the next races will see improvements from the Austrian factory.
The other Espargaro, Aleix, also struggled on Sunday, as his Aprilia ran into a fuelling issue that saw him drop back through the field. Without the problem, Aleix felt he might have been able to fight in the top 5/6 and he'd shown decent pace over the weekend. His main area for improvement seems to be getting the most out of new tyres, particularly for a fast lap, so if he can improve qualifying his results should benefit. His new team-mate Scott Redding finished just behind Aleix in 20th after lacking rear grip for much of the race, but the British rider is still learning the RS-GP so we should see him gain confidence as the season progresses.
Overall, the Qatar Grand Prix was a spectacular season opener. We saw a 10-year-old pole record smashed by Zarco, a tyre masterclass from Dovizioso, another last corner challenge from Marquez, a return to the podium for Rossi and some very strong performances down the rest of the grid. Moto2 and Moto3 served up brilliant battles as well, with Pecco Bagnaia and Jorge Martin starting the season on top. And MotoGP had one of it's closest top 15 finishes with just 23.287 seconds separating them.
With 3 weeks until the next race in Argentina, it's Desmo Dovi who starts the year in pole position at the top of the standings and there's every reason to expect further visits to the top step this year for the Italian. After seeing Ducati boss Claudio Domenicali bow down to Andrea on the podium, it's perhaps time the Borgo Panigale factory got out their pen and secured Dovi's future at the team. Give him as much money as he wants, it's his birthday this week!
Welcome back MotoGP, I can't wait to see what the next 18 races have in store.