Suzuki registers new Katana logo and trademark. Again.
In the 1980s you couldn't move for the Katana logo on a Suzuki. It was draped all over various sizes and types of bike – including small capacity scooters – until it disappeared in the mid 2000s, but it's for the awe-inspiring 1981 GSX1100 Katana sportsbike that it's most fondly remembered.
Now though – if filings to the US and EU trademark offices mean anything – it could be that it's on its way back.
In early February of 2018, Suzuki filed a new trademark and logo for use on 'motorcycles and the parts and fittings thereof'. Which could – as many commentators are saying – mean that the brand is about to be re-birthed, and the primary candidate for the badge and name would be the production version of the glorious, turbocharged 'Recursion' concept.
Exciting? Maybe.
The Recursion concept first arrived as a concept on tradeshow floors back in 2013 and has been gathering dust beneath the large, showroom halls ever since.  But there has been some recent movement with regards to the parallel-twin and in May of 2017 patent filings revealed a double-overheaded-cam engine that looked very much like their new, XE7 unit that was showcased in 2015.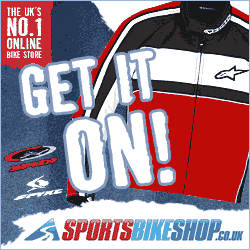 Rumours from 'insiders' (read: other motorcycle blogs and twitter feeds of some Suzuki-associated, Russian employees) hint at a new GSX-700T model on the way in the coming 18 months or so, which means that it's quite possible that this would be the bike that would get to receive the new use of the Katana name.
Still excited?
Well, Suzuki did also file for a similar trademark and logo back in 2010, so don't get your local dealer opening up his order book just yet.
So is Suzuki bringing back the Recursion concept but with a Katana logo on it?  We have absolutely no idea.
Put simply, this is all conjecture and speculation to fill up a slow, news-cycle at the moment, but some, possibly exciting news is better than no exciting news, right?
If we had more time, money and knowledge, the questions we'd really like to investigate the answers for would be:
Is a Suzuki 'Recursion' Katana a bike that the current motorcycle climate would respond to?
Would anyone who fondly remembers the Katana name purchase a 700cc machine, even if it is turbocharged?
Samurai swords are still cool, right?
Source: Motorcycle-Magazine