SCRAMBLERS ARE A HOT TOPIC. Build one, and you're sure to be judged solely by how well equipped it is for hardcore off-piste use.
But that's not all that scramblers are about. Daniel Peter compares his latest build to his childhood BMX—and it's pretty much how we feel about modern-day scramblers too.
"When I was four years old, my BMX bike became my life," he explains. "It was so simple, yet so fun. Just wheels, pedals and brakes. I'd ride it to the beach, jump a few curbs along the way, race my friends. Those were the good days."
"30 years later, I set out to build a motorcycle based on the same principles. There's nothing on this bike that doesn't need to be there. It has wheels, a punchy engine and great brakes. I didn't even put a speedo on it, because I never looked at the one on my last bike."
Daniel works as a photographer in Chicago, but wrenches during the winter to keep his passion for riding alive. He keeps a workshop in Chicago's Logan Square neighborhood, outfitted with a tool cabinet, a welder, and a 1940s South Bend lathe.
This 1978-model Yamaha SR500 is the fourth Yamaha 500 he's built to date. "It's the most simple, yet the most thorough, of the bunch," he says.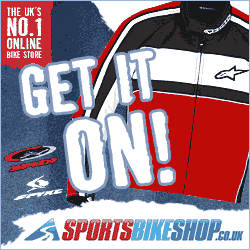 The motor's been bumped to 540 cc, with a grocery list of go-fast bits that includes a lighter XT500 crank, a new piston from JE and a Megacycle cam for better torque down low.
R&D valve springs with titanium caps, a Powerdynamo ignition and a high-flow oil pump from Kedo round out the package.
Hoos Racing refreshed the crank and cut new valve seats for Daniel, but he tackled the rest of the rebuild himself. Every single bearing and seal was replaced along the way too. As for the carb, it's been swapped out for a 39 mm Keihin FCR flatslide number, fed by a fat K&N filter.
The exhaust system is a combination of a custom made stainless steel header, and a Cone Engineering muffler.
The SR rolls on 17" supermoto wheels, borrowed from a KTM (front) and a Honda CRF450 (rear). They're wrapped in Pirelli MT60 Corsa tread; a 120 up front, and a chunky 160 on the 5" rear rim. ("It juuust fits," says Daniel.)
The brakes have been upgraded with a mix of Brembo and Beringer parts, with an RCS 14 radial master cylinder up front.
On top is an aluminum Yamaha XT500 fuel tank, wrapped in a paint scheme "inspired by an unforgettable riding trip through Baja." Just behind it is a new saddle from MotoLanna, with a new kicked-up subframe loop.
It's just about spring in Chicago, so Daniel must be itching to rack up the miles on his SR500. And we're betting it's going to be impossible to get him off it.
---
A version of this article first appeared on Bike Exif. It's republished here with permission.