HRH takes a cheeky ride on a Triumph Tiger 1200 during a Triumph factory tour.
His Royal Highness the Duke of Cambridge visited Triumph's HQ in Hinckley today to officially recognise a new £6 million paint shop facility.
The paint shop is a major investment by the British firm and will begin applying colour to Triumph machines during the spring of this year, so the visit of Prince William didn't involve seeing the 35 year old prince trying out his spray gun skills.
He did however 'fix a Triumph badge to the engine of a Triumph Tiger 1200 Adventure' during his visit, so if you've got one on order you might well be the lucky recipient of a motorcycle almost literally given a royal badge of approval.
The Duke helps place a badge on one of the bikes in production. @UKTriumph is the largest British motorcycle manufacturer and its assembly line in Leicestershire builds around 67,000 bikes per year. pic.twitter.com/OWffTNjcqR

— Kensington Palace (@KensingtonRoyal) February 20, 2018
William is no stranger to motorcycles and has gone on record saying that he regularly enjoyed the anonymity provided by a helmet and leathers as he rode around London city in his early years.
Previously he's been asked about his love of motorcycles by triple World Superbike Champion Jo1nathan Rea – whilst collecting his MBE from the Prince – he has been quoted as saying that he 'loves bikes but has put them on the back-burner because of this children'.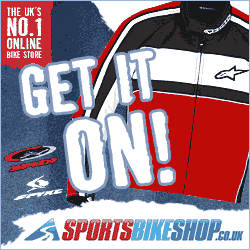 His wife might have had something to do with that as well… Allegedly Kate has said in the past that the idea of her husband riding motorcycles fills her with 'horror'.
The Duke test-drives the latest Triumph Tiger 1200. pic.twitter.com/Igul53lui4

— Kensington Palace (@KensingtonRoyal) February 20, 2018
Today though after taking the Triumph Tiger 1200 he was all smiles. When asked if he'd enjoyed his ride he simply grinned 'very nice, but not long enough!'