Could the Manx Missile hang up his lycra and pedals for something a little more petrol propelled?
Mark Cavendish has been the fastest thing on two (pedal-powered) wheels for a while now, but in recent interviews, the Isle of Man native and good friend of Cal Crutchlow has expressed an interest in two-wheeled vehicles of a motorcycling kind.
Speaking in an interview with Esquire Magazine from when he was in Abu Dhabi for the Formula One last year, Cavendish shared his love of fast cars and bikes, telling the interviewer that he'd 'always loved anything to do with motors, or machines… Vehicles really. Just love them'. Before being asked if he'd ever considered being an F1 driver?
'Nah. I don't think I'm good enough. Everybody thinks that it's like driving a car down the promenade, it's totally not the same. To be honest, I prefer motorbikes more; I would like to race them instead.'
Ok, so it's not a huge admission or a massive surprise – it's something we've all probably dreamed of and one time or another, but when pressed on the issue he does seem to have considered the possibilities more than just in passing.
When asked if motorcycling racing might actually be next for him he replied with an emphatic, 'In all seriousness, I think so'.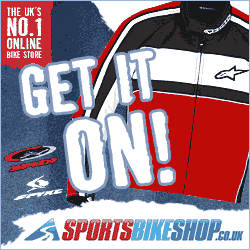 Adding fuel to the fire have been comments from him earlier this month made during press conferences in support of the Dubai Tour.
When I grow up, I want to be @calcrutchlow.. Got my knee down & everything! https://t.co/WKFtEgEG5K pic.twitter.com/V0sndWRs6Z

— Mark Cavendish (@MarkCavendish) December 1, 2015
When asked explicitly if he'd consider hanging up his cycling blocks for motorcycle leathers, he certainly didn't dismiss the idea, 'Anything is possible, you know… I will just look at my options for the short term and the long term and see what I do with my future'.
So that's definitely not a no.
For cycling fans fearful that he might be closer than expected to making the jump, there's probably not any immediate cause for panic. In the very same Esquire feature he also explicitly stated that he had a 'fair few years' left in his professional career.
Could a cycling pro move over to motorcycles with any expectation of success? Multi-discipline racers aren't unheard of. Rossi loves his car racing and Lewis Hamilton has always expressed an interest in a taking turn in MotoGP.
But that's from a motor vehicle on short track racing onto another motor vehicle on a similar track. We'd imagine that the speeds and skills involved from pedal cycle to internal combustion engine are a little less transferable for any moral human.
But then Mark Cavendish isn't your average human being and reports suggest that the times that he has spent on track have been pretty impressive.