The motorcycle world is finally starting to behave like it's past 2004.
Sean MacDonald first came across our radars back in late 2014. Back then he was responsible for much of the Lanesplitter sub-blog on American auto website Jalopnik, but once that tenure passed, he was soon picked up by US magazine Cycleworld. Since then he has become a regular favourite of many online, motorcycle aficionados.
Now it would appear, he's managed to persuade the good people over at Cycleworld that what they really need is a tighter focus on the 'more raw' end of video-based content and so he's started a weekly video blog.
Announced over on his Kinja page under the title 'I'm Trying Something New…You Guys Ready To Watch Some Dumb Motorcycle Videos On The Internet??', Sean explains that, "Bonnier (Cycle World's parent company) realizes that we need someone to bring the fun and enthusiasm back into motorcycles. Even more, I was able to convince them that due to a changing media landscape, that the best way to do that is through a Vlog series.
So I'm a vlogger now—except I have Cycle World behind me to help grant me the access, opportunities, and knowledge to try and do it in a way worth actually watching. The goal is one video a week, with basically free rein to go make the most fun and compelling content I can."
His first video is from a Michelin tyre test in Qatar, and when we contacted him about it, he told us to not tell anyone over at Motofire until he became 'less crap'. Now, having seen his last two videos – a Christmas off-road family adventure and he and his friend Justin's first public trackday – we reckon now is that time.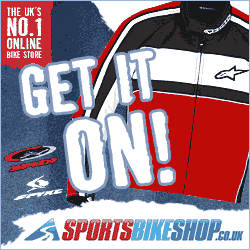 We're sure his video editing skills will get better and the focus of his videos will get sharper, but we're also sure that his ability to actually enthuse and make motorcycles seem like a past-time that is actually – you know – fun will continue along at much the same pace!
Whilst the idea of a vlog might not seem like anything new for most of us who live on the Internet, the fact that this kind of content is not only coming from a recognised journalist with actual access to quality machines and locations, but also from a worldwide publisher of renown is heartening. There are too few people and companies that think like this these days.
We've spent years watching the same people, do the same things, on the same bikes, over and over on the regular channels. So we welcome anything from anyone who's willing to challenge the status quo and to do something a little bit different.
Keep on keepin' on…