Triumph ramp up the sales pitch for the new Speed Triple by catering to the established racer crowd.
The Triumph Speed Triple has been called many things since its launch in 1994. With its adoption of the then relatively novel Streetfighter style, it soon gained legendary, 'hooligan' status and has been a staple of the naked bike scene ever since. MCN called it a 'Rottweiler' and Motorcyclist Online said that it would ' grab American riders' monkey nerves'.
And now it's on its way back.
The teaser video dropped earlier this month and it was everything you would expect with silhouetted images of the new bike, smoking tyres and lots of aggression. And it had us all excited.
But then Triumph released another video and that excitement has turned into jaded cynicism.
Carl Fogarty is a living legend (we've had the pleasure to meet him on several occasions and he's a thoroughly nice chap), he's also been the King of the Jungle. And Gary Johnson is one of the most consistent and hard working road racers on the circuit, with a gregarious personality that leaves an impression on everybody that he meets. They're also both, quite capable of riding the rear tyre off of any motorcycle that Triumph would care to throw their way.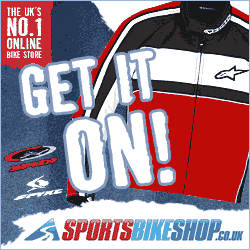 But with the Bonneville Bobber launch already pulling the 'celebrity' rider and race schtick this time last year for Triumph, surely the birth and hopeful rejuvenation of what should be the youngest, wildest and most hooligan of all machines in their catalogue deserves something a little bit less… establishment?
In these times of ever-dwindling sales and when the average age of a motorcycle rider is rising rapidly year-on-year, isn't it time that somebody stopped 'preaching to the choir' and started pitching and selling these mad machines to the likes of those who still have the energy and youthful attitude to life (and potential death) to make the best out of them?
When KTM first launched their Super Duke line, the videos they released were loud, brash, angry and showed riders doing 'very naughty' things. It's true to say  – a decade on – that the world has moved on a bit and that it probably wouldn't be allowed in our modern world (it was already slightly dated with it's post-grunge soundtrack even upon launch), but it had enthusiasm and excitement that no other commercial for motorcycles has ever seemed to be able to convey since.
Surely that's precisely the kind of thing that would translate from a poster on a bedroom wall into a wildly miscalculated decision to enter a world of financial pain and into a PCP agreement at the local dealer?
The launch of the renewed Triumph Speed Triple will be a success. Of that we have no doubt.
It'll be live-streamed on Facebook and there will be all of the usual faces doing the usual things; tweeting out to their peers and echoing the noise within the same channels as they always do. Us probably included; although we're not expected to be invited to the actual show and will probably be doing it from the comfort of our living rooms via a stuttering live stream and iPhone.
And whilst Triumph are continuing to buck the trend and post solid sales figures, who are we to counter the decisions of the highly-paid marketing managers responsible?
We're very conscious that we here at MFHQ are starting to sound like a corrupt MP3 files missing vital information from its header file (that's a bad 'old scratched record' simile), but if we can't start getting 'the youth' into these two-wheeled deliverers of happiness by showing them the raw excitement of a naked hooligan bike then what chance do we as an industry have?
That's nothing against Fogarty or Johnson – in fact at least one of them is younger than the majority of the office here – but with motorcycles starting to actually filter into the social consciousness once more through both the new wave custom scene and more recently the world of Haute Couture, is using motorcyclists to sell motorcycles to motorcyclists the best approach every time?
Oh and for the record – and with the greatest of respect to TT winner Gary Johnson – the answer to Triumph's 'Who's the greatest?' question is very obviously Carl Fogarty.
(Assuming that Surtees, Rossi or Agostini aren't in contention).