As painful a prospect as it is for some people, riding through winter is a sure-fire way to sharpen up your riding – as well as spare you six months of sitting in traffic, in the car.
Build up that confidence in the cold and wet and just imagine how much faster you'll be when the roads dry out again. Plus, there's the simple fact you won't be anywhere near as rusty when the season starts again in spring.
The truth is – with the exception of a few extreme days – our winters here in the UK aren't anywhere near as bad as we think they are, and are getting warmer, but there are a few things you need to keep on top of to make sure you don't come unstuck. Here's six things to keep a close eye on:
Tyres
Priority number one should be your tyres, as they'll need to be in good condition and have plenty of tread depth, to deal with the increased levels of water etc. on the road. Upgrade to some proper winter tyres if you can afford to, and make sure you check them over thoroughly before every ride.
Make sure your battery is up to the task
As the temperature drops, a battery's capacity will too, because the chemical reaction inside slows. Make sure you test yours regularly and buy an optimiser/charger to keep it tip top – be especially vigilant if you're running heated grips/gloves etc.
Use proper oil
The colder it is, the slower your oil will flow, so you'll need a lower viscosity to compensate. Check your handbook, or with your dealer, for recommended grades etc.
Check your coolant
When was the last time you checked your antifreeze strength? Do you even know how to? Get a manual, look on YouTube or ask your dealer, but just make sure it's ready for those icy evenings.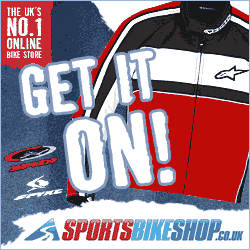 Maintain and inspect
There is nothing more frustrating than breaking down in the middle of nowhere, unless it's also cold and raining. Get those regular services done on the nail and inspect your bike for potential problems regularly.
Corrosion
Salt and water damage can wipe hundreds off the value of your bike in just one season, as well as damaging key components. Wash, dry and cover your bike – both in corrosion protectant and with a cover, if parked outside – after every ride.
A lot of riding safely – in any weather – is all about common sense and taking care of both the bike and yourself. Here's to some brilliant riding days this year – in any weather!