Honda and Forever 21 show that young people could be interested in motorcycles. Or the clothing at least!
Trendy high-street favourite Forever 21 and perennial motorcycle manufacturer Honda have joined forces for a capsule collection in the US of A – and it's everything that you would expect the results of a heavily youth-orientated brand browsing through the plentiful archives of a motorsports iconic brand to be. It's loud, bright, brash and – quite frankly – brilliant!
Taking its major design cues from the 1980s and '90s, the current fashion for large, dominating logos shows now signs of abating with the classic Honda wings being blended with chequerboard linings and huge blocks of Honda's red and blue.
It's all streetwear of course with sweatshirts and racing jackets all being blended with the staple T-shirts. But of specific interest is that the majority of the collection is aimed towards women with vintage-inspired crop-tops and skirts all making an appearance.
We've been talking about motorcycling verging across the fringes of high fashion for a couple of year's here on Motofire, with both Vogue calling it out as a style to watch and Rihanna using it as the basis for her latest collection, so it was only a matter of time before it hit the high street. Although despite the whole new wave custom scene taking a stab at bringing motorcycles into the forefront of fashion-followers minds, the continued aging population of bikers and the existence – still – of fluffy helmet covers on the UK streets show that we've got a long way to go.
Bravo Honda and Forever 21. Let's hope this means a few more young people will be inspired to pick up a CRF250L to match their new threads!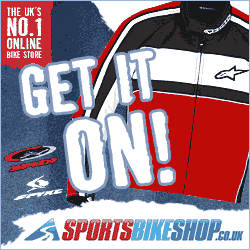 Source: Highsnobiety
H/T: Asphalt and Rubber