MOST CUSTOM BUILDERS are self-taught men and women: folks with a good grasp of mechanics and an ability to 'learn on the job.' Each build gets a little better than the last, and a reputation is forged.
That's the path taken by Luca Caravà, who worked for Ducati before setting up Home Made Motorcycles four years ago. He worked behind the scenes at Borgo Panigale rather than on the factory floor, but he now has around 20 builds to his name. The hard work has paid off: Parts Europe commissioned this tracker-style build for their stand at the EICMA exhibition.
There aren't many Ducati flat trackers around, but they usually look good—and 'Desmo Flat' upholds that fine tradition. It's based on a 750SS, but with substantial mods.
On paper, the 750SS is a good starting point for a tracker-style build. It's a light bike, at around 400 pounds dry, and with 64 hp and 62 Nm of torque, it's got enough power to move quickly without aimlessly spinning the wheels. The bodywork is an acquired taste, but that's just a good excuse to get rid of it.
The flat track essentials are all present and correct on Desmo Flat. Luca has ditched the stock Marzocchi USD forks and installed a set from a Yamaha R6, plus 19-inch Excel wheels from a Honda CRF. (That's a two-inch increase from the standard wheels, and to get the back rim to fit, he had to modify the swingarm.)
The rear frame is new, and built to accommodate a pair of long-travel Bitubo shocks, instead of the standard Sachs Boge monoshock. The tail unit that sits on top of the new tubing is custom-made, along with the tank, and the angles suit the Ducati's trellis frame perfectly.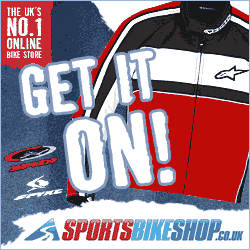 It's easy to spot the neat cut-out on the tank for the new K&N air filter setup; less obvious is the complete rewire, and the new box for the electronics.
Luca's Ducati is no buckin' bronco pro flat track machine, but it captures the style with brio. And it wouldn't be too hard to take off that front brake …
These days, you can pick up a rough-around-the-edges 750SS for a couple of grand, and a damaged one for less. Luca's donor bike was only worth a thousand euros, which makes this a pretty budget build—and a pretty sharp-looking one too.