Indian Wrecking Crew rider gives Valentino Rossi dirt riding tips over Instagram.
You're never too old – or too talented – to learn, and Valentino Rossi still has the hunger to improve if his latest social media posts are anything to go by.
After posting a video of him riding his Flat Tracker around the Rossi Ranch he quickly tagged in Brad 'The Bullet' Baker and 'Slammin' Sammy Halbert – both people who know a few things about Flat Track with a just a few AMA and X-Games wins between them.
So what do you do when the man that many people refer to as the G.O.A.T writes 'Flat Track Style, I'm OK ???' on a post to over 4.7 million followers and then adds your name to it?
You could just post a *thumbs up* emoji and be done with it…
Or, if you're Baker or Halbert, you study the man's style and offer advice.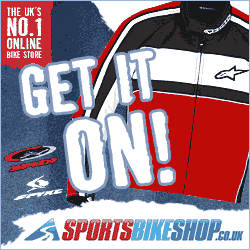 Sammy Halbert had just one, minor suggestion for the famous Number 46, just recommending that the MotoGP man raised his elbow just a little…
But Brad Baker? He basically offered the multiple World Champion GP racer an entire lesson over Instagram,
Calling Rossi out for his 'unique' style, he agrees with Halbert about his right elbow needing to be raised, but then he continues to explain why, whilst also giving Dainese the slightest of tips into how they could improve his riding leathers for maximum movement.
It's invaluable advice to any riders looking at hitting the dirt oval track, but to offer that level of detail to Valentino Rossi over Instagram and in a public forum? Priceless!
And Vale seems pretty appreciative with the tips too…
Let's hope Rossi invites Baker and his Indian FTR750 over to the ranch and posts that on Instagram too!