Just to make sure we all have a good Christmas and New Year, The Rail Delivery Group announced that the biggest rise in train fares for five years will be hitting the UK on January 2nd – cheers for that.
Yep, tickets will be going up by an average of 3.4% just as we all start trudging back to work in 2018. That might not sound a lot, but it's putting over £100 on top of the average annual season ticket, and means more commuters than ever will join the unhappy band who're forking out over £5000 to get to work and back each year; season tickets to London are already over £5k from places like Milton Keynes, but from January commuters from Oxfordshire, Essex and East Sussex will also be looking at north of £5k to get to the capital.
Add to that the increasing passenger numbers on already oversubscribed routes, delays (1 in 9 trains were late in the UK last year) and strike action – ref: Southern Rail, to name just one – and you'd be mad not to be considering two wheel travel to the office next year.
Even if you haven't got a bike license (if you have, what the f*ck are you doing sitting on a train?!) the costs of rider training, insurance, fuel and bike gear, plus a a PCP deal on a brand new scooter big enough to tackle a serious daily commute each day, will still come in way less than just one year's season ticket, as well as reducing your daily commuting time and lowering your blood pressure*.
*probably
Here's six of the best:
Honda SH300i
Honda's SH300 might look funny, but it's a big seller on the Continent, and for good reason. Those 16-inch wheels make it handle and hold the road like it's on rails; add to that the punchy and smooth 279cc fuel injected motor and 125cc dimensions, and it's one of the fastest things through traffic you can buy.
Engine: 279cc
Power: 24.8bhp
Seat height: 805mm
Weight: 169kg
Fuel capacity: 9 litres
RRP £4799
Kawasaki J300
The J300 was Kawasaki's first foray into the scooter world, and it's a very good effort. OK, it's not strictly all their own work – it's actually a Kymco underneath, a Taiwanese company that also makes scooters for BMW – but the tweaks they've made have given it a strong motor, easy handling, a good spec and a very comfortable ride.
Engine: 299cc
Power: 27bhp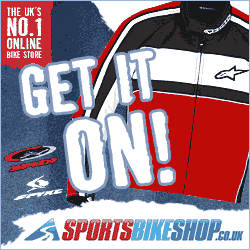 Seat height: 775mm
Weight: 191kg
Fuel capacity: 13 litres
RRP £4599
Yamaha X-Max 300
The X-Max fills the gap between the N-Max 125 and the prized-by-theives-and-eye-wateringly expensive T-Max 500 in the Yamaha range. For a daily commute, you don't need much more: enough power to overtake on the motorway, predictable and confidence-inspiring chassis, decent weather protection and executive-level spec – adjustable screen and bars, lockable storage, power socket, anti-lock brakes, traction control and much more.
Engine: 292cc
Power: 28bhp
Seat height: 795mm
Weight: 179kg
Fuel capacity: 13 litres
RRP £5045
Vespa GTS300

Substance meets style. If the 'modern' scoots do nothing for you, the GTS is what you should be looking at. Vespa style with genuine 80mph performance, respectable handing, a solid engine and more accessories than you can shake a fox tail on an ariel at. Get to work quicker than your colleagues, and look good while you're at it.
Engine: 278cc
Power: 22bhp
Weight: 148kg
Seat height: 790mm
Fuel capacity: 9.5 litres
RRP: £4899
Peugeot Satelis 2 400
Although not many people know it, Peugeot's have been making scooters since Noah was a lad, and as a result are very, very good at it. Version 2 of their Satelis 400i is worthy of the pedigree and blends the practicality of a maxi scooter with class-leading performance – it puts out an impressive 37bhp. Its 6,200-mile service intervals makes running the Satelis easy on the wallet too.
Engine: 399cc
Power: 37bhp
Seat Height: 784 mm
Weight: 213 kg
Fuel capacity: 13.5 litres
RRP £4799
Kymco X-Town 300i ABS
You might not have heard of Kymco, but they are a serious player in the two-wheel game, having had tie-ins with Honda, BMW and Kawasaki. As we said earlier their X-Town 300i is pretty much the same as the Kawasaki J300, but with a bit of negotiating at the dealer, should come in a few hundred quid cheaper. If you're not bothered about the badge, it's definitely worth considering.
Engine: 276cc
Power: 24.1bhp
Seat height: 785mm
Weight: 195kg
Fuel capacity: 12.5 litres
RRP £4599