Meet motorcyclist Chris Ganley.
The former soldier served two tours in Afghanistan before then losing his left arm in a motorcycle accident in 2014. It was only a low speed accident too, with Chris travelling at just 30mph before hitting a wall and a lamp post, where he suffered broken ribs, broke his back in three places, punctured a lung, had a bleed on the brain and was also placed in an induced coma for a week. To say he was unlucky is an understatement.
Just six months later however, Chris got back on two wheels and now competes in the Thundersport GB on a specially adapted Yamaha R1.
And he's not competing to make up the numbers either – securing a third place finish in his first race. But Chris has longer-term goals, and is aiming to be the first one-armed rider to compete in the Isle of Man TT in 2023 – all the while helping other people with injuries or disabilities to ride and race motorcycles.
He's been featured on a BBC Three online video this week too as part of their Amazing Humans series…
"When Chris Ganley had a motorbike accident in 2014, he broke his ribs, his back in three places, he punctured a lung, and created a bleed on the brain. He also lost his left arm. After a period in an induced coma, there was a time when he wished he'd never woken up.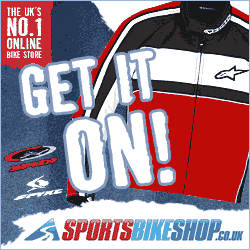 However, the passion that almost killed him also saved him – and three years on, he's back on his bike and helping others with upper limb amputations get motorbiking too."
Source: BBC Three