Easy to learn, hard to master… The six, simple skills are the key to silky smooth riding.
I'd wager most riders don't really bother that much with training, once the L plates have been ditched. Sure, a few might go for a track day session or two, but I bet I could count on one hand the number of you who've been back to riding school since you rode off with your full licence.
And that's fine, but be you a new rider or an old hand it never hurts to brush up a bit on your skills… and no, that's not in a 'Institute of Advanced Motorists, you'll save 5% on your insurance' kind of way; the simple fact is, we didn't get into motorcycling because we had to, we ride because we enjoy it and the more confident and competent you are handling your bike, the more you'll be able to enjoy the act of riding it. Make sense?
Brush up on a few basic skills – that you probably could do without thinking anyway, but have just got a bit rusty at – and the mechanics of riding will become second nature, leaving you safe in the knowledge you can cope with most of what the road can throw at you and able to sit back, relax and just enjoy the ride.
Here's six key things to sort:
Stop, before you go
Most riders won't give emergency stops a second thought after passed their practical test, but do you really want to find out you can;t remember how to do it properly when you're hurtling towards something? Find a car park and practice, practice, practice – in the wet and dry. And don't think you don't need to just because you have ABS either…
Corner with confidence
Ever gone into a corner too hot? Ran wide? Bottled it and grabbed the brake mid-bend? We all have, so there's no shame in brushing up on your counter-steering, learning how to read a bend and going over throttle control again. Imagine how much more enjoyable your favourite twisty road will be…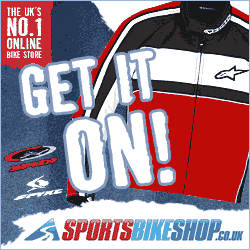 Overtake without a mistake
One of the best bits about riding a bike is being able to nip past slower moving vehicles without too much effort. Do it badly, in the wrong place, or for the wrong reasons though and you're at risk of coming unstuck in a big way. Learn how to effect a proper overtake with confidence
Slow and steady
Few things make riding easier and more enjoyable than being able to pull off a feet-up-u-turn, ease up to traffic lights without having to dab for the floor, or cut your way through stationary traffic with ease. Learn how to balance your throttle, clutch and brake for proper slow control.
Roughing it
Having eve just the basic skills to be able to deal with rough surfaces keeps you ahead of the game. It might only be a gravel track to a viewpoint, a short stretch of grass to the camp-site, or an unsurfaced stretch of Tarmac in some road works, but being able to deal with a little 'off-road' is a winner
Go long
Riding for long stretches is something few riders plan or train for, but it can really help being capable and confident that you can knock out a big mileage ride when you need to. Learn how to get yourself mentally and physically prepared to ride long distances, so even if it's unexpected, you can go those extra miles without a problem.