Epic, battery driven, off-road bicycling action awaits.
eBikes have been morphing a standard bicycle with a motorcycle (sort of) for a little while now, and they are definitely growing in popularity.
MotoFire recently covered Bultaco's recent release: The Albero, and this new French machine uses a similar system – mix a bicycle with an electric motor and battery for a little extra go!
The French manufacturers of the LMX use a very similar blueprint of all current e-bikes; add motor and battery, minimise weight and the two engineers who are building this new e-bike and are styling it as a downhill bicycle for extreme off-road use. Gnarly!
The 161-H features an aluminium 6061 frame and produces 8kW/10.7hp whilst the whole bike only weighs 42kg.
The LMX is fitted with high-end off road mountain bike trinkets: RST Killah Coil RC front forks, a DNM RCP2 rear shock and TRP Zurich brakes with 203 mm discs.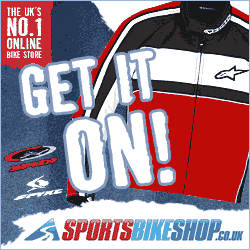 Some motorcycle parts feature too, with the motocross style foot pegs; road legal LED lights and the Domino grips and levers. Whilst the mixed up parts continue with a 26-inch downhill cycling tyre at the front and a 19-inch motorcycle tyre at the rear.
The electric motor is a brushless DC unit with a Kelly controller, and features regenerative braking to aid the range of the 1.7 kWh Samsung battery. In Eco mode 3kW of continuous power is ready to be deployed through the karting chain and sprocket but can be increased to 8kW when in Boost mode. Both modes come with 300nm of torque and can tackle inclines of 45 degrees claim LMX.
The LMX with its standard 600W charger can be charged fully in three hours and has a range of 40 miles or 2 hours in Eco mode and the battery can also be removed by sliding out the side of the frame – so there is a possibility of having a battery spare so that you can swap it instantly and carry on riding.
The 161-H is more a motorcycle in its current configuration than a bicycle, but LMX can fit an optional pedal and gearing set kit so it can be propelled by human power! (If that's your kind of thing).
A word of warning for prospective crowd-funders however; this eBike will most likely be classed as a moped or a scooter so may have to have its power restricted to meet the moped regulations.
LMX are yet to put their 161-H into production as it is still needs street legal homologation and is being crowd-funded at Indiegogo to achieve this. The Price for this entire tech is €6,500 and is expected to be on the road in May 2018.
Source: New Atlas