If they keep releasing RC versions of their existing machines, what are they going to reveal at EICMA next week?
This has to be the last of the race replica machines from MV Agusta doesn't it? In recent weeks we've had a Lewis Hamilton designed version of the F4, an MV Agusta F4 RC and an RC'd Dragster. And now it's the turn of the 'babies' of the range, the F3 675 and 800 to get their Reparto Corse clothes.
As is customary, the new MV Agusta F3 675 and F3 800 take on the racing graphics of the factory and there is a host of extra bells and whistles bolted onto that beautiful chassis, but more importantly, these new F3s are now Euro 4 compliant – which means that they produce 48% less noise than their 2017 counterparts but also 50% less noxious fumes.
Despite all of the Euro 4 restriction, the power of the new F3 remains, with MV claiming 128 hp from the 675 RC and 148 hp from the 800 variant. With its redesigned gearbox, SC Project silencer feeding out from reshaped exhaust manifolds and tweaks to intake cams and valves, this is likely to be the best handling F3 ever produced.
Oh and there are some tweaks to the electronics too; with personalised mappings now available, eight level traction control and a EAS 2.0 electonic shifter.
As is also customary now from these MV specials, the number available has been limited to 350 and all purchases will come with an additional wooden box of goodies – all aimed at turning the Euro 4 compliant road bike into a trackday weapon; think new titanium exhaust system, bits of carbon, new levers and a replacement ECU that will kick up the HP to 133 and 153 respectively.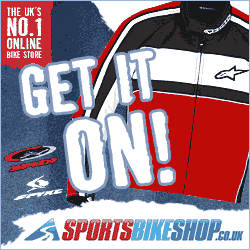 Also as standard… Those red wheels!