When was the last time you saw a bike advertisement this bonkers on TV?
You can't think can you and do you know why? Because here in the UK (and across most of the 'western world') motorcycle sales are rubbish and nobody seems to know how to market a two -wheeled machine anymore.
There was a time however when that wasn't the case. And that time was the 1980s.
Now, before we get all starry-eyed over the decade, it's worth noting that the world was about as bleak then with its nuclear war threat and insular politics as it is now, but there was one difference; the pop acts of the time were full of excess, artistic wealth and utterly off-the-charts inspirational craziness.
So if you were an advertising executive at Honda, why wouldn't you choose the woman who wrote one of the filthiest songs of all time to sell your new Honda Scooters!
Answer: there is no reason NOT TO! Especially when you can bring in renowned dandy highwayman Adam Ant for double the fun…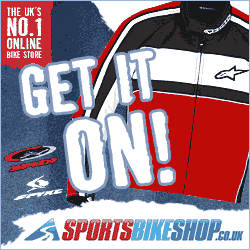 And once the world saw that, what do you think they did? They naturally got Grace Jones to do an entire spot on her own of course…
Nope, we have no idea either. But you can't deny it's effective… Because you're already considering going out to your local Honda dealer aren't you? Sure, it's because you're worried that Grace will visit you in your dreams this evening if you don't, but a sale is a sale!
In fact, Grace and Adam (we're on first name terms) weren't the only music stars to get in on the Honda action either. Just look at how enigmatic this end-of-the-world Max Mad vision'esque advert featuring Miles Davis is.
Even pop-synth legends Devo got in on the act:
Now look at this 2013 YouTube video for the NSS300 Forza. Where did we all start going wrong? Nobody wants to be the asinine couple sharing a quiet ride on a trip to the beach… We want to be the physically empowering Grace Jones stalking her little, British popstar prey with all of the elegance and threat of a Tiger dancing around a Pigeon.
Maybe we'll see some entirely new creative thinking coming during this year's EICMA motorcycle show in Milan next week, but unless Honda bring Kanye West on stage popping a wheelie whilst sat backwards an all-electric Fireblade, we're going to be disappointed now that we've seen what was happening nearly forty years ago.
Note: The Scooter that's being sold by Honda in the '80s adverts is the four-stroke Honda Elite. Why doesn't anyone make pop-up lights anymore?