Energica have unveiled their third production model with the Eva EsseEsse9 and claim it's the first "old school" electric motorcycle.
This new machine features ABS and a vehicle control unit, which manages the motor's power when the throttle is applied. But the clever new tech – as previewed in their 'interesting looking' concept of last year – is that the batteries are sealed in a battery case, which is cooled by an aluminium plate to avoid the motor from overheating.
Energica say that they are the only electric motorcycle manufacturer to adopt this technology.
All that new tech will come at a cost however, because the current proposed price of the Energica EsseEsse9 will be upwards of €35,000.
For that you'll get an electric roadster that produces 109hp, 180nm of torque and with a range of ninety-three miles.
Show Floor
Press Shots
EVA ESSEESSE9 Technical specifications
COLOUR:
Lunar White – Shocking Blue – Metal Black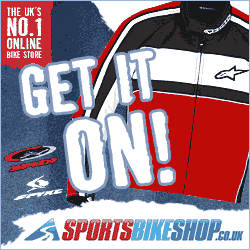 MOTOR:
Permanent Magnet AC, Oil Cooled
POWER:
kW/Hp 80/109
MAX SPEED:
Limited at 200 km/h – 125 mph
TORQUE:
180 Nm
RIDING MODES:
4 Riding Modes: Urban, Eco, Rain, Sport / 4 Regenerative Maps: Low, Medium, High, Off
PARK ASSISTANT:
Back and Forth (2.8 km/h – 1.74 mph Max Speed)
BATTERY:
Capacity 11.7 kWh – lithium polymer – Life 1200 Cycles @ 80% Capacity (100% DOD)
RECHARGE:
30 min (0-85% SOC) Fast Charge DC Mode 4 / 3,5 h (0-100% SOC) Charge Mode 2 or 3
BATTERY CHARGER:
Onboard, [110-220]V [50-60]Hz, 3 kW. Conforms to Standards SAE J1772 and IEC 62196-2 with pilot signal for charging station interface
LPR FUNCTION:
Long Period Rest: allows the maintenance and automatic balancing of the batteries during long period of non-use
DASHBOARD:
4.3" WQYGA 480×272 TFT Color Display with internal memory for datalogging, integrated GPS receiver and Bluetooth communication 16.7 million colors; 9 Warning Lights; 6 + 6 Current Consumption Lights; Ambient Light Sensor; Real Time Clock; GPS 10Hz. Possibility to view the closest charging stations when connected to MYEnergica App.
CONNECTIVITY:
Bluetooth Low Energy
VEHICLE CONTROL UNIT:
A Vehicle Control Unit implementing a multi-map adaptive energy and power management algorithm manages the vehicle. It constantly monitors batteries, even in key off position
FRONT & REAR WHEEL:
Cast Aluminium: front 3.5" x 17" / rear 5.5" x 17"
TYRE:
Pirelli Phantom – front 120/70 ZR17 / rear 180/55 ZR17
FRAME:
Steel Tubular Trellis
SWINGARM:
Cast aluminium
FRONT SUSPENSION:
Marzocchi Ø43 mm, Adjustable Rebound and Compression Damping, Spring Preload
REAR MONO:
Bitubo Rear Mono Shock Adjustable Rebound, Spring Preload
CHAIN:
(16/44) 525 O-Ring Chain
FRONT BRAKE:
Brembo, Double Floating Discs, Ø330 mm, 4 Pistons Radial Caliper
REAR BRAKE:
Brembo, Single Disc, Ø240 mm, 2 Pistons Caliper
ABS:
Bosch Switchable
MATERIALS:
Carbon Fiber/ABS
DIMENSIONS:
SEAT HEIGHT 795 mm/31,3", WHEELBASE 1465mm/58,9", LENGTH 2140 mm/84,2", HEIGHT 1220 mm/48", WIDTH 870 mm/34,3"
WARRANTY:
3 years on vehicle / 50.000 km – 31.000 miles on battery