It's been a week since the end of the 2017 EICMA Milan Motorcycle Show and now that the dust has settled we've got a chance to look back and examine just what it all really meant for motorcycling in 2018.
This has been the third EICMA in a row for Motofire and it in-fact marked our third proper year in existence; Well done us, etc. But almost certainly of more importance than Motofire becoming a *thing* is the impact that these shows have had on motorcycling within this time.
So what – if anything – made 2017 special? Steve & James from Motofire both had very different experiences of this year's show…
James – The view from the 'new'
I have been attending motorcycle shows for a number of years but this was only my second visit to the EICMA show in Milan – my first time was on a whim in 2014 while on a short city break in Milan and I wasn't sure what to expect.
This year I was ready, but the visit was a very eye-opening experience for me – mainly because attending as a member of the press meant that I was able to get stuck in early and be there on the press days, waiting for the unveiling of the new motorcycles from the manufacturers at the same time of the rest of the world.
EICMA was predictably very busy during the press days and this just added to the excitement and anticipation of the new machinery for me. Throw into the mix the enthusiasm of the Italians for anything two-wheeled and the EICMA show is my personal favourite of all the shows I've ever been to – and this makes for a very entertaining time.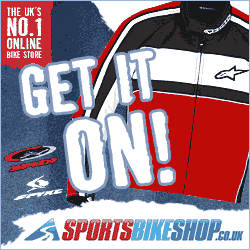 A whole host of motorcycles were shown off to the press across the first two days of the show and whilst some caught my eye there were others that I really didn't understand.
It is great to see the boundaries of motorcycles been pushed further and further, with the lead taken firmly by the three wheels by Yamaha. Their live show on Monday evening was a bit underwhelming as they unveiled updated motorcycles rather than anything actually new, but then – suddenly the show peaked – as Valentino Rossi rode on to the stage on the Three-wheeled Niken. This bike looks mean!
I really fancy a go on the Niken, that entire grip could add up to a fine handling machine in the wet or the dry and I'm eager to see how Yamaha can fit this into their current range of bikes, but I really hope that it will be a success.
Kawasaki launched their new fleet on Tuesday morning to a very large crowd, the size of which did surprise me; especially considering what they were launching. Some 125's were teased but were delayed until late 2018, some other bikes were unveiled (Ninja 400, ZX-10R SE, H2 SX) all of which didn't really excite me massively, but I guess I can understand the appeal.
And then the show ended with the Z900RS Café, which – being honest – was an anti-climax.
Kawasaki has joined the Modern-Retro club rather late and this shows with the new model. If I'm being kind I would say that the new Z900RS doesn't actually look that bad – apart from being a slightly fat bike, but the Café variant just looks tragic. It's just trying way too hard. The headlight cowling looks out of place, to this untrained eye at least, and the lime green paint job is really very suspect. Still this Z900RS Café is a canvas just waiting to be customised, so these features can be whipped out and replaced I suppose, as the customer desires. But who's going to spend nearly £10,000 on a bike just to have to change it?
Okay enough of negative cynical thoughts, now it's time for something positive and exciting.
Looking back on the EICMA show, only two motorcycles (well three actually but I'll explain) really caught my eye.
Firstly Husqvarna are a brand I've never really been too fussed about in the past, but this changed during their unveiling of their new motorcycles. Amongst the Svartpilen 701 Concept, Vitpilen 701 and 401, the Svartpilen 401 really stood out to me! There isn't much difference between both 401 machines apart from a few styling tweaks and the lower bars on the Vipilen model but the Svartpilen differs with black paint with yellow accents and silver spoked wheels and just looks brilliant. The fantastic urban detailing and low weight of 150kg will make this a riot to ride in the city, I'm sure of it!
The 373cc engine may only have 44hp but you will be charging through that 6-speed gearbox in no time at all. I'm genuinely excited about the Svartpilen 401 for when it will arrive in dealers in March 2018 and I'm really, seriously considering one as my personal ride.
And then there was Royal Enfield.
They have really upped their game in recent years and their sales figures only go to back this up. So there was a lot expected of their new 'twin' machine and the unveiling of both the Interceptor and Continental GT came with a rapturous applause from the crowd on the Tuesday afternoon. If Royal Enfield are to be believed, these new bikes are actually 98% new, which is impressive in and of itself, but nowhere near as important as that new 650cc twin engine. With 47hp on tap from the air and oil cooled parallel twin engine – which sounded amazing in the promotional video – both of these bikes look absolutely fantastic! It's the right mix of new and old.
The styling is straight from the 60's thanks to the big 7″ headlight, Monza style fuel cap, wire-spoked wheels and quilted seat. And don't forget those chrome twin pipes and tear drop fuel tank. I love it!
Sticking with their heritage, the old aesthetics are mixed with new modern features and really bring these motorcycles into the twenty-first century; fuel injection, Euro 4 compliance, slipper clutch, 6-speed gearbox, ABS brakes and Twin Coil-over shocks at the rear make for a very capable everyday motorcycle.
It's hard to choose a favourite between the two but for me the Interceptor just wins it. Those higher braced bars, upright riding position and cruiser style look makes the Royal Enfield Interceptor my favourite motorcycle at the EICMA show – by a long way!
Steve – The rejective perspective
I'm pleased for James, I really am. Seeing bright, young eyes getting all excited at the thought of new machinery is exactly what the motorcycle industry needs. And he's absolutely right about the enthusiasm oozing from the Royal Enfield contingent at the show. It was an absolute joy to see Sid Lal and his team behave almost like a family at a naming ceremony… All excited at the new baby and full of pride and hope for the future. It's retro sure… But it's honest.

If only the rest of the industry could muster up the same enthusiasm.
I'm being serious here… This year's EICMA was such a disappointment for me it's hard to fully express how sad and upset I feel about this past-time and mode of transport that has captured my soul. Remember when Barack Obama became president of the United States and how exciting and thoroughly new and invigorating it felt? Now cast your mind back to last year when Donald Trump was sworn in to office. That feeling bubbling under your stomach as he raised his right hand… That feeling right there, is what I'm currently experiencing with the motorcycle industry. Something isn't quite right.
At here in Europe at least.Whilst the rest of the world look to two-wheel transport as the solution to most individual's travel problems, and – with a few notable exceptions – congestion issues, here in Europe we concentrate on bigger, more 'blingy' versions of the same machines we've been spitting out for years. Want an MT-09? Here's one with SP sparkly bits on it! Ducati's V4 Panigale rightfully took much of the Italian marques' praise. But who needs a Multistrada with a 1260cc engine? And launch control?!
Husqvarna at least are looking to the future and trying to spread out the range into new arenas, and they should be applauded for that. It's true – as many naysayers are umm… saying – that these bikes are probably 3 years too late in the delivery schedule, but the fact that we're even getting an urban commuter bike that looks remotely close (aesthetically at least) to something that's been designed in the 21st century should be continually applauded. The Svartpilen 401 that James likes was first shown back in 2015! But they really do look beautiful and if I can afford a Vitpilen 701 I'll be considering a purchase; especially because I know that it's a 'finished' looking bike and that I won't be too eagerly flicking through any accessory catalogue.
Yes, that was a jibe at you Kawasaki. I'm afraid that a range of leather jackets and a clumsy attempt at dining out on your heritage doesn't cut it. At least not for this observer.In principal the Z900 Café Racer should be right up my street. I'm serious. I started my love affair with motorcycles at around the same time that the Bike Shed began their blog and put on their first show. If there is any bike that I should be excited about, it's a retro-looking café racer with dropped bars and a bikini fairing. But this is a motorcycle pitched for the landscape in 2018 and things have moved on. It feels old – not just in its retro vibe – but by modern, millennial-aesthetic standards. Five or six years ago it would have been beautiful and provided a real rush of blood to various regions of my body. Now, it just feels like a grand jump towards a bandwagon that's already leaving town.
So where do we go? Well, with the exception of an electric Vespa, there doesn't appear to be much new technology on the immediate horizon. Despite companies like Gogoro disrupting the industry in South East Asia, the European market seems content on hedging its bets and playing some weird, tranquillising game of patience. The danger of that of course is that if you wait too long, someone else will come up and take over your area of the market.
But it shouldn't take too much to reinvigorate things. Just take a cursory glance at what Indian Motorcycle are doing compared to Harley-Davidson.
To the outside eye, both of these companies could be seen as being virtually identical; both trade on heritage, both trade on big ol' cruisers and both have a healthy stack of t-shirt designs that they would love to sell to you. But only one company has the positive momentum and what appears to be the vision to see them relevant to the new markets that motorcycling has to attract to survive. And it ain't the Bar & Shield brand.
I've made no attempt at hiding my desire for an Indian FTR750 for the masses. I have no idea if it will sell and I don't have a degree in market economics or any motorcycling related field to back up this 'gut feeling' of mine, but it seems like a bike just perfect for the market right now. Flat Trackers are popular, yes. Heritage-styled bikes are all the rage still – just ask Ducati and Yamaha – and a smaller capacity engine from Indian would be amazing for both domestic commuter markets and foreign lands alike. But it's the style of the thing that resonates more than anything.
Even if it arrived in a Scout derived, 1200cc form, the heady mixture of style and Wrecking Crew-like fun, all underlined by the classy Indian heritage that Polaris have managed to recapture seems tailor made for the end of this decade. Like a bubbly mix of both Royal Enfield's genuine, retro honesty and Husqvarna's future-looking cool, the FTR1200 custom concept bike was the highlight of my 2017 EICMA.
But it's only a temporary peak on a graph that is looking perpetually low for motorcycling in the western world. Maybe next year there will be a two-wheeled revolution? But with incestuous marketing and PR teams in control of a lot of the purse strings here in Europe, I fear that the real revolutions on the horizon, like Honda's self-balancing marvel, Yamaha's Motoroid concept and Gogoro or Go-Jek's disruptive business models will be left for the rest of the world.
So whilst they're all riding around in the future, we'll most likely get another sportsbike in race replica colours, teased by a racer that's only famous within an ever-dwindling community of old men.
For the love of motorcycling, I'm seriously considering moving to South East Asia.