Do a bizarre series of tweets hints at a new TT team for the Isle of Man TT legend?
The issues between John McGuinness and Honda during the 2017 season are well documented. A crash at the North West 200 saw the 23 times TT winner suffer a compound fracture to the bottom of this right leg, four broken vertebrae and three broken ribs and, despite immediately withdrawing both the bikes and then stable-mate Guy Martin from the further racing 'pending investigation into mechanical issues'
Trouble with the new race-prepared CBR1000RR 'Fireblade' ECU was later found to be at fault for the horror crash suffered by McGuinness and despite measures being put in place before the TT races began, the always-outspoken Guy Martin suffered his own issues, crashing during the race week and described the bike as 'always going to be wrong'.
So you couldn't blame McGuinness for at least wanting to look at his options if he is to continue racing the Mountain course.
Well, at this year's Motorcycle Live event in Birmingham, McGuinness was doing his usual press work but also – according to reports – spending quite a lot of time at the Norton stand, admiring the new machinery.
Whilst there he was snapped sitting on a Norton Isle of Man TT race motorcycle by none other than Paul Phillips, the man employed by the local government as the 'TT & Motorsport Development Manager' and responsible for organising the Isle of Man TT every year. You will notice McGuinness making a 'Ssshh' motion with his finger towards his lips…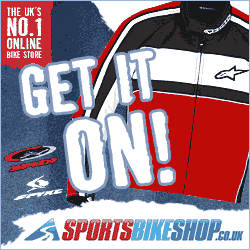 Look out @norton_ceo pic.twitter.com/eI5hKU4La9

— Paul Phillips (@PaulPhillips_TT) November 26, 2017
Which naturally generated a response from the CEO of Norton Motorcycles – and the man in charge of their Twitter presence.
https://twitter.com/norton_ceo/status/934792877623971841
So far, just a cheeky couple of tweets amongst good friends. But then the King of the Mountain himself had to go and tweet a couple of emojis in reply and our view of the whole TT world become shook to its very core…
https://twitter.com/jm130tt/status/934841384279986176
What can those two 'Winging Face' emojis mean?
It all just looks like fun and games doesn't it? Just a bit of high-spirits during the close season between close friends…
But wait.
To add fuel to the fire, an article from British motorcycle print publisher MCN this morning reports that 16-time TT winner Ian Hutchinson could be on his way to a Honda switch from Tyco BMW after falling out with the team. According to the newspaper, "Honda are expected to have an all new line-up for 2018 after their star rider John McGuinness broke his leg after an incident caused by an electrical fault with his Fireblade at the North West 200."
It couldn't happen? Could it?
John McGuinness riding the Isle of Man TT on a Norton for 2018? Now that would be front page news!