It's been called an epidemic, outrageous and unbelievable. All viable words to describe the current situation that is hampering motorcycle ownership – and growth – thought the whole of the UK but predominantly its capital city, London.
If you're a motorcyclist, or even just consider yourself nothing more than a 'mere commuter' it seems to be on the news constantly as of late; whether its motorcycle theft, phone snatching or bikes or scooters being used in smash and grabs, it seems clear that the capital is really suffering.
And despite London being one of the most surveilled cities on the planet, swamped as it is with CCTV cameras, it's a deterrent that's being proven useless when a the purpetrator has a helmet on, no number plate on the back and therefore now way for anyone to track them! It really just seems like a case of thugs being able to simply ride away and threaten anyone that challenges them. It just all seems so easy.
Campden Hill Road yesterday! Come on @TfL and metropolitan police bloody well do something. Shouldn't be up to the public to do your job. @weridelondon @BikeShedMC @itvnews @Channel4News @BBCBreaking @UKTriumph @MCNSport @MCNnews @REVIT @Downandoutmoto pic.twitter.com/lUMu7o2XzU

— Charley Boorman (@charleyboorman) November 16, 2017
Of course, theft of motorcycles is nothing new, but the latest statistics show that somewhere in the region of 1,500 motorcycles or scooters are being stolen every month in London – with 'scooter gangs' committing close to 50,000 crimes in total over the course of a year. And despite these latest figures being said to have dropped by 25% between the months of July and September this year according to the London Metropolitan Police, it's still hard to think of anyway to describe this state of affairs as being anything but out of control.
There is some movement from the authorities, but it all feels a little haphazard and misdirected. Take a recently posted video from the Met Police as an example; It's all well and good telling riders to lock their bike or to risk losing it, but apply a cutting disc to the lock, and within a few seconds that lock – and bike – is history! Sure, some locks are strong enough to fend off bolt croppers, but nothing seems able to capably defeat an angle grinder.In fact, a battery-operated grinder is so small and cheap these days that they can easily be hidden away in a bag without suspicion.
I ride my Fazer in to work every day and park it as close to work as possible in a public motorcycle bay, I then attach three different locks to it, perform a small dance to myself and then pray that its still there when it comes to home time! I'm really hoping that adding so many security devices really does act as a deterrent, and it's been so far so good. But that still doesn't stop the thought of some toe-rag having it away from sticking in the back of my mind whilst I'm at work, so I still end up checking on it when I get the chance. I've had a motorcycle stolen from me before and it hurts – a lot! Luckily it was recovered by the local constabulary and could be repaired; I was one of the lucky ones.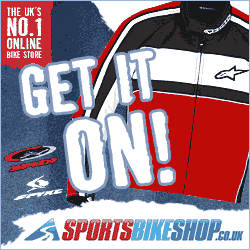 So what can be done to rid the capital and the rest of the UK of motorcycle and bike-enabled crime? Well, not an awful lot it would seem.
The police are finally waking up and smelling the grinder dust, and it would appear that they are now seeing this as a huge problem for everyone, rather than just us motorcyclists. One of the latest weapons that they've been granted the use of in their fight against the crime? Four BMW F700GSs and tyre-puncturing stingers. Will they ever actually use the stingers to stop moped gangs? Let's all hope so, but I'm personally very doubtful. Any Police officer in pursuit is already too aware of the problems that arise if 'something goes wrong'. The Police cannot combat the crime as bureaucracy and red tape are holding them back.
If you're a frequent visitor to any of the larger social networks, you'll be all too aware that vigilantes are now stepping into the frame to try to kerb the epidemic, but this is very, very risky. A group of dispatch delivery riders recently took it upon themselves to find their friends' scooter after a gang had stolen it, and they somehow managed to track them down and unearthed a huge scrap yard of bikes being stripped down for parts! Whilst the police subsequently intervened and arrested the culprits it doesn't even take a regular viewer of Crime Watch to see just how dramatically south that whole scenario could have gone!
Have-a-go-heroes and the public waking up to the moped gangs is a start. And people starting to fight back is great until it inevitably all goes sour. With gangs going equipped with hammers, grinders and pick axes, anyone intervening is taking a huge risk. In a recent, terrifying development, it would appear that the latest threat from the criminals is a use of acid being used on dispatch riders in order to steal their scooters; these are life changing attacks. I applaud all that try to stop motorcycle crime but this is going to bubble over into a fatality if this madness carries on and we cannot allow it to escalate to that kind of level.
I really hope the tides do start to turn and we can all sleep at night again! But only time will tell.