The future doesn't have to be without human interaction.
When it was first mentioned, the MOTORiD concept from Yamaha garnered some nice attention but also a lot of dismissive words across the swathe of motorcycling press who wrote about it. Some referred to it as little more than a curiosity, whilst others likened it to an Artificially Intelligent 'pet' that was basically nothing more than a Motobot in reverse; all tech and no rider.
But it's always felt a little bit more than that to us here at MF.
Announced alongside some more immediately available releases at Yamaha's press conference at the Tokyo Motor Show, the MOTOROiD concept (or reference vehicle as they like to call it) is the company's attempt at glancing into a not to distant future, and – unlike many clay and fibre-glass prototypes this one looks pretty solid already.
The video released by Yamaha at the Tokyo show starts by hinting at some of the proposed 'artificial intelligence' built into the machine. Now, whilst the AI moniker might be debatable, what it does show is that Yamaha's idea of a future vehicle is one that's connected to the rider in some way; perhaps by App, maybe through camera-based gesture recognition or perhaps a combination of both. But it should be something that would help merge the rider and machine a little more than just 'whoever owns the key can ride the bike'. Take that UK scooter thieves!
The bike is hailed as being fully autonomous – we can ignore the child-like stabilisers for now, nobody wants to drop a priceless concept machine because a line of software was missing a semi-colon – and using technology that we can only assume is similar to that Honda have already shown off this means that ideas such as Tesla's 'summon' proposal suddenly become closer to reality.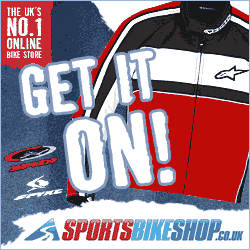 But perhaps of most interest, and welcome relief, is the fact that Yamaha not only see the future of motorcycles as being something supported by a gazillion sensors and lines of software in order to keep us safe, it also sees the rider as the heart of the machine.
The notion of having the biker automatically adjust itself to suit the rider feels just future-tech enough for us to be excited but also practical enough for us to believe that this kind of thing will absolutely happen sooner rather than later.
just look at the 'haptic support' that is being provided by the rear tail unit… It might not be much more than the equivalent as an electric 'memory' seat in your Mercedes-Benz, but it's still cooler than anything else you're likely to see today.