Get On is providing free motorcycle riding experiences across the UK again.
You can't swing a leg over a motorcycle legally within the UK without first undergoing a legally required day's course, known as Compulsory Basic Training, or 'CBT'. And that's only the first of many hoops to jump through and hurdles to jump over if you're one of the dwindling few who might be keen on riding on two wheels.
To try and attract more interest from people to even care about challenging that first hurdle, the "Get On" initiative – created by Motorcycle Industry Association here in the UK – aims to gives anyone the chance to experience the thrills of motorcycling but without the initial financial and often embarrassing expense of a CBT.
Taking place at various locations across the UK, the huge benefit of these sessions are that you get a dedicated 1-on-1 session with a motorcycle instructor – so now potential embarrassment of wobbling in front of a larger group. The instructors will show you the basic skills needed to manoeuvre the motorcycle in a controlled manner safely.
Extra dates added for @GetOnTweets in #Erith #SouthEastLondon & #StHelens #Merseyside for dates & booking see https://t.co/fGXqCXEL4b Free! pic.twitter.com/JgKWgmjpJD

— Get On (@GetOnTweets) October 3, 2017
People will have the choice of riding a geared motorcycle or a scooter. Once somebody gives it a go, the hope is that they will never look back!
Karen Cole, Director of Safety and Training for the Motorcycle Industry Association, which backs Get On events, says this is an ideal introduction to motorcycling: "If you've never tried a motorcycle or scooter, but always wondered what it's like, this is your opportunity to do so."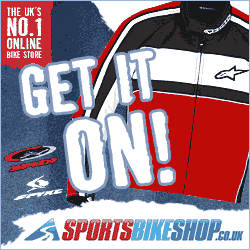 "Whether you are looking for a way of saving time on your journey to work by avoiding traffic queues, Get On will help you discover if motorcycling or scootering is for you, in a safe and structured environment. You can also get advice on where to go to find high quality training in your local area."
The other benefit of this course is that it's open to anyone over the age of 14 – you need to be at least 16 here within the UK to ride even the smallest capacity of scooter – and no licence is needed because the course is undertaken on private land rather than on the road.
It is very much an arrive and ride session, because all protective gear is provided by "Get on" as well.
The only thing required of you is to have some basic balance skills due to the short lesson offered. Arrive to the session wearing Jeans and Boots covering your ankles and you are good to go!
The free courses are being offered at Erith, London from the 28th-29th of October.
The next sessions are being hosted at the NEC at Motorcycle Live from the 18th-26th of November.
The last sessions of the year are at Donington Park, Derby on the 3rd of December 2017.
Source: Get On