Motorcycle racers and their families have been having a bit of a grumble on Twitter this week.
If you're a reader of the UK's only weekly motorcycling news paper, you may have been surprised to see a certain Northern Irish racer missing from their front page this week.
Jonathan Rea, the British man who just won his third WSBK championship has probably done more than most this season to deserve his moment… His father certainly thought so.
Thought winning a WBSK title 3 in a row would at least deserve front page coverage. Obviously not 😏 pic.twitter.com/PWi3yQeWQu

— Johnny Rea (@johnnybrea) October 4, 2017

We have some great talent in the WSBK and whilst it's valid to suggest that the loss of allure from that specific championship has been something that even Dorna have struggled to manage, it's still surprising to see that MCN decided not to dedicate their front cover to Rea's amazing achievement and instead give the front page to a self-produced render of a motorcycle that doesn't even officially exist yet.
Guy Martin, a man who has never won a TT race, commanded a whole front page of MCN with the confusing announcement that he was retiring, shortly followed by a denouncement from camp Martin themselves.
But what is it about Guy that makes him more newsworthy than Jonathan Rea's historic win and third consecutive title? Is it that readers just aren't interested enough in a British, triple World Superbike champion? Surely if anyone should be celebrating that achievement it's the one, dedicated weekly newspaper with an audience interested in such things?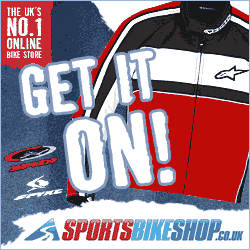 Maybe it's just bad timing? Print deadlines often make it impossible to give last minute coverage to news events such as this; although a leading French publication did manage to headline the news this week and it's not as though everyone didn't know that it was coming.
Jonathan now has a fourth title to aim for so he can match 4 time WSBK legend, Carl Fogarty. There will be many waiting to see if he defends his title and matches the might of Fogarty next season.
It's not all negativity though.
There are calls for Rea to be included in Sports Personality of the Year and a petition has been started by Carol Nash, an insurance company the champion is ambassador for. Self-serving promotion for the insurance company, possibly…  But it's a welcome promotion and it wouldn't be the first time a British motorcycle racer has been nominated – James Toseland made it to 5th place after winning two WSBK championships. Fan support could well be there if motivated strongly enough. In fact, at the time of writing there are over 6,500 signatures all asking for the World Superbike Champion to be nominated.
Our ambassador @jonathanrea should be shortlisted for @BBCSport Personality of the Year. Sign here https://t.co/YIhqIOSwZG #JR3peat #R3PEAT

— Carole Nash (@insidebikes) October 3, 2017

It's not been a great week for Bauer titles on social media to be honest. Just last night another motorcycle legend took to Twitter after discovering he's been ditched by Performance Bikes.
Looks like a not a columnist anymore 4 @PBmagazineUK funny how the phone stops ringing when ur injured 🙄🙄 or well it was great fun. pic.twitter.com/B4MDibrqSd

— John McGuinness (@jm130tt) October 5, 2017
John McGuinness was surprised to notice he no longer made the grade as a columnist. Tweeting that it would have been nice to be told, the injured King of the Mountain got a lot of support from fans. With some saying they would be cancelling their subscriptions. Not really the best thing to have happen when you're one of the world's most recognised  and loved motorcycle racing figures.
Bauer media dominate the print industry with close to a 95% monopoly within the motorcycling-based titles within the UK; and with many high profile – and much loved – publications in their portfolio it's sad to see two negative situations coming from such high profile accounts in such a short space of time.
With such a forced reliance on the 'traditional' press, it's hard not to feel disappointment for the wider industry when such prominent achievements or personalities get overlooked, and not to sense that the environment and landscape for news, opinion and promotion of two-wheelers is changing. Social media now allows rebuke and rebuttal in an instant, and managing a narrative or story angle is harder than ever in a digital world.
And more importantly, just look at the last two months of UK new motorcycle sales… How can we expect a faltering industry to grow and develop if even our own press won't celebrate the achievements of homegrown talent?
It's true that not everyone can get a front-page, or have a column expected to be published in a magazine, so with the online environment being so vibrant, maybe the question here isn't why Rea or McGuinness didn't get their names in print? But actually, why does it even matter anymore?
Still, there's a Guy Martin 2017 'annual' out this month and just in time for Christmas – so at least one (ex?) racer will be happy this week.
John, if you fancy a column on Motofire, we'd love to have you. Print is dead, long live the internet etc