Rookie rider Johann Zarco will start from pole position for the second time this season after topping the damp qualifying session for the Japanese Grand Prix.
The Frenchman had started the weekend well, with a positive performance in the practice sessions, but no-one had expected him to be challenging for pole position, probably including Zarco himself.
The qualifying sessions started as always with Q1 which saw Maverick Vinales continue to struggle, as the factory Yamaha M1's problems with rear grip and wheel spin stubbornly remain. The Spaniard had started the session with the extra-soft wet compound rear tyre but soon decided it wasn't for him and he pitted to change to the soft option, the harder of the two. While Vinales battled his bike, the KTM duo of Pol Espargaro and Bradley Smith continued to impress and show the progress that the Austrian team have made, even more notable as they hadn't tested at Motegi before.
It was Espargaro and Smith that topped the session and moved into Q2 for the top 12 shootout, while Vinales was left to start tomorrow's race from 14th on the grid, with Cal Crutchlow also having issues and starting from 15th.
For Q2, the track was still damp and despite a drying line, there were no suggestions that it was ready for slicks. But that didn't stop Valentino Rossi, who headed out with soft compound slicks front and rear, to the surprise of everyone. It had been a mixed day so far for the Italian, after showing strong improvements in FP3 before crashing in FP4, luckily his still healing leg was ok although he did hurt his finger slightly in the fall. Despite taking the gamble with slicks, it didn't pay off for Rossi as the track was still too wet and he had to change back to wet tyres but ultimately ran out of time and couldn't improve past 12th on the grid for tomorrow's race.
The only other rider to give slicks a try in qualifying was World Champion, Marc Marquez. The current championship leader had already set the fastest lap of the weekend and was looking untouchable, but as he pitted and made the surprise swap to slicks, Johann Zarco brought a blistering lap out of nowhere to take over the pole position. Like Rossi, in terms of grid position the slicks didn't help Marquez as he had to settle for third, but he was quick to point out that he'd learnt a lot on those few laps and that could prove very important for tomorrow's race, depending on the conditions.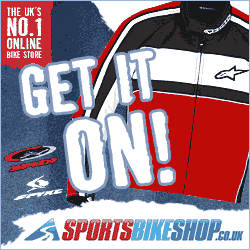 While Zarco took pole, it was also a great finish to the session from Danilo Petrucci, with the Pramac Ducati rider securing second. The Italian hasn't felt as comfortable in wet conditions as he normally does, but he has shown his competitiveness and shouldn't be ruled out for a strong podium fight tomorrow.
Leading the second row of the grid is Aleix Espargaro who has had a brilliant weekend so far on the Aprilia, while Jorge Lorenzo and Dani Pedrosa line up alongside him. The third row features the two KTMs of Bradley Smith and Pol Espargaro, with title contender Andrea Dovizioso starting from 9th. Rounding out the top 12 are the Suzuki duo of Alex Rins and Andrea Iannone, with Valentino Rossi completing row 4.
For tomorrow's race, everything will depend on the weather and it looks like it will be wet. The question is: how wet will it be? If it's fully wet the riders have plenty of track time and data to support their tyre and setup decisions, but if it dries enough for slicks and potentially a flag-to-flag race then the list of unknowns is virtually unending.
In terms of the championship, Marc Marquez starts from the best position with Andrea Dovizioso a full two rows behind him. Maverick Vinales' grid position of 14th will only make his hunt to close the gap that much harder and it'll need to be a truly astonishing ride from him to stop that gap from growing.
At this stage of the season, some riders have nothing to lose and everything to gain, riders like Johann Zarco, Jorge Lorenzo and Dani Pedrosa. Others have everything to lose and if the risks are too high we could see a more sensible approach from the title contenders, although Marquez's dominance so far this weekend means that could still be a victory for him.
What will happen in the Japanese Grand Prix? Quite simply, nobody knows. Weather will likely be the decider, but tyres will play their part and the championship clock is ticking…