MotoGP has arrived in the Land of the Rising Sun, as the paddock braces itself for the flyaways; 3 demanding back-to-back races that begin at the Twin Ring Motegi this weekend.
After a two week break following Aragon, the next three races will be coming thick and fast. From Japan, MotoGP will journey south to Australia, before turning north-west for Malaysia. But first, Motegi.
The Twin Ring is as its name suggests is a double track, there is the oval and then the Grand Prix circuit; that both nestles within and winds its way outside of the banking. Based in the hills near Motegi, the track is encased by forest, making the often misty mornings as beautiful as they are inconvenient for scheduling.
Motegi is a demanding circuit; there is hard braking, with Brembo rating it a 5 out of 5 on their difficulty scale and 340mm discs being mandatory, along with hard acceleration, an abrasive surface and some elevation changes.
Those changes in elevation contribute to the circuit's most iconic turn, the not particularly imaginatively named 90-degree corner at T11. Following the equally obviously titled Downhill Straight, riders find themselves entering T11 at over 300 km/h before braking down to just 86 km/h in the space of 263m and 5.2 seconds. If you want to see a MotoGP bike brake with the rear wheel completely off the floor, this is a spot to watch this weekend.
Turn 11 is also one of the main overtaking zones in Motegi, but it's also one that can easily go wrong, with riders outbraking themselves and arriving in the gravel rather than making the 90-degree turn before heading through the tunnel. Other areas to watch for passes are turn 1 where riders will aim for a slipstream along the front straight and move up the inside, the lefts of turns 3 & 4, and turns 7 & 8 with the S Curve giving an opportunity for a cutback.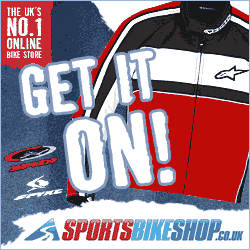 But Motegi isn't just demanding to ride, it's also a track the requires compromise in setup. It's a stop-and-go circuit which means stability will be key for both the hard braking and the acceleration, but focus too much on one and you won't be going anywhere very quickly. There's also the issue of fuel, riders have run out of fuel before the end of the race before and managing that, along with tyre wear, will be crucial.
With tyres, Michelin are combatting the "extreme stresses" that Motegi can cause by bringing asymmetric rear tyres, with a harder right shoulder. Grip levels are normally good, which will be a relief to anyone who has seen the weather forecast for the weekend (let's just say it's not pretty). Front and rear slicks come in the usual soft, medium and hard compounds, while front wets will be available in soft and medium, with the rear wet allocation being extra soft and soft.
The 3 flyaway races are not just individually demanding circuits, but they bring with them a different atmosphere to the rest of the season. There are no breaks, no-one heads home and undoubtedly someone gets ill along the way. Heading into this weekend MotoGP will already be missing two of its usual suspects; Jack Miller has broken his leg in a Trials accident, he has had a plate fitted and hopes to be back for Australia but will be replaced by Aoyama this weekend.
Jonas Folger will also be missing Motegi (with Australia also very unlikely) as he has been sent home for further medical tests. Folger hasn't felt 100% since the summer break and was particularly weak after Misano and Aragon. Jonas has previously suffered from Epstein Barr virus and says that there's a possibility that this is a flare-up of the same illness, but further tests are needed to make sure. Yamaha's Nozane will stand in for Folger this weekend.
As MotoGP races towards the end of the season, the crowning of the new World Champion also looms closer. Mathematically, there are still 5 riders in the fight, although Dani Pedrosa and Valentino Rossi would need something virtually unprecedented to happen to the 3 in front. At this stage, Marc Marquez is the man to beat with a 16 point lead over Andrea Dovizioso, Maverick Vinales is 12 points behind Dovi and 16 ahead of Pedrosa, who has just 2 points over Rossi.
On paper, Marquez has the momentum, he's won the last two races, he has 7 podiums in the last 8 races, with only Silverstone's engine blow stopping him from fighting for 8 in 8. He hasn't won 3 races in a row since the sheer dominance of 2014 and Motegi will a hard track to change that statistic at. He won both the race and the World Championship last year after both Rossi and Lorenzo crashed out, but 2016 was also missing something else.. Dani Pedrosa. His team-mate had crashed in Friday practice and broken his collarbone, removing one of Marquez's clearest rivals on Japanese soil.
Pedrosa has 5 wins across the classes at Motegi, with 3 in MotoGP and he loves the track. It's brought him some bad luck in the past with two broken collarbones including last year, but after a second place in Aragon that made him only the 5th rider to have more than 16 years between their first GP podium and their most recent one, he has found some form and should be back in the fight this weekend.
The Ducati duo should also both be strong in Japan. Andrea Dovizioso is in the title fight and he's as calm as ever. He likes Motegi as the hard braking and acceleration suits both him and his Ducati, and this year he brings confidence that they have proven themselves competitive in all conditions so far. Team-mate Jorge Lorenzo shares the love for Motegi and has gained 6 MotoGP podiums with 3 wins and 4 pole positions at the circuit. After another good performance in Aragon which brought his second Ducati podium, this week is his strongest chance yet for taking the win.. that doesn't mean he will win as there is a lot of competition in Japan, but he should be strong and a fight for the podium is definitely possible.
At Yamaha, Maverick Vinales is another who claims Motegi as a favourite and he knows that if he wants to really fight for the title then he needs to get back on the podium this weekend. In Aragon, he was held back by the wrong tyre choice but believes that they can be strong over the next races, despite still having a lot of work to do. On the other side of the Yamaha garage is Valentino Rossi, who used the extra time off after Aragon to really work on his fitness, including getting back on track at the Ranch. He should be even stronger this weekend and has a great history at Motegi with 11 premier class podiums and two wins. The Japanese Grand Prix is also where the Italian took his last pole position in 2016.
For the other factory teams, Suzuki had a good result last year with Vinales finishing 3rd and Aleix Espargaro 4th. On paper, Andrea Iannone thinks it looks good for the team and it'll be an important Suzuki home race for both him and his team-mate Alex Rins. At Aprilia, Aleix Espargaro loves Japan and the circuit, and this week the team will be trying out a new fuel feed system configuration "with the goal of changing torque output". For KTM, they've now put to bed speculation over next year's team by confirming Bradley Smith will keep his seat. It's another new circuit for the Austrian team but as they continue their development with the new chassis more progress is definitely possible.
The flyaways always bring uncertainty with them and this year the Asian Tour promises the same. 3 races back-to-back bring their own unique set of difficulties, each circuit is a particularly challenging one and the weather will always play its role. This weekend looks to be a wet one and that means anything can happen.
There won't be a new MotoGP World Champion on Sunday, but we could be one step closer to knowing who it might be, or we could know even less than we do now, the 2017 season has thrown continuous curveballs so far and there's no reason to expect that to change anytime soon. What we do know is that Motegi is a fantastic circuit that brings brilliant racing and the Japanese Grand Prix is a race you won't want to miss.