Formula 1's upcoming champion Lewis Hamilton gets excited about his new collaboration with MV Agusta.
Inspired by the front cover of a book that his mum bought him for Christmas, it would seem that Lewis Hamilton has always been a little bit in love with motorcycles. And MV Agusta's in particular.
Listening to him explain that it was an MV on the cover of that specific book, it's perhaps no surprise that his affiliation with the Italian manufacturer runs a little bit deeper than most 'ambassador' associations.
Speaking in this video – released by MV over the weekend, Lewis Hamilton waxes lyrical about his New MV Agusta F4 LH44 whilst hooning it around the Pirelli Proving Ground, and it's hard not to be infected by his obvious enthusiasm for the brand and the bike in particular.
Whilst admitting that it's perhaps not everyone's 'cup of tea', he freely admits that this is a bike that he feels is a reflection of his style… And that it's the most beautiful bike he's ever seen.
At least we think it's Lewis in the video…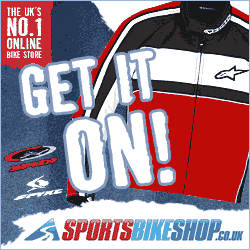 Sneak peek from some @mvagustamotor business with @LewisHamilton last week. There's some cool stuff coming soon… 😉✊🏼 pic.twitter.com/ItCsGQoIiX

— Leon Camier (@leoncamier) September 2, 2017

Because the dude pulling wheelies on the official press photographs from last week, looks very similar in stature to a current MV Agusta Superbike rider.
(I think we can all forgive Lewis a little stunt double action though… Unlike MotoGP racer contracts, we have a feeling that F1 are a little stricter about this kind of thing!)