Is this the new, Naked Fireblade?
Coming under the banner of 'A new breed is born', Honda have just teased what they are calling their 'Neo Sports Café' with a brief YouTube video.
There really isn't much to go on, with the close-up shots and moody lighting offering very little by way of information. And annoyingly it looks as if people have finally caught on to the fact that raising the brightness and contrast in Photoshop was usually enough to reveal anything hidden behind a silhouette lighting set-up.
So instead, what we have are lots of enigmatic snippets of people thinking, making and generally 'crafting' away whilst dressed all in laboratory white clothing.
What could it be?
Well, people have been turning Fireblades into solid Café Racer/Streertfighter'esque machines ever since they crashed and realised that it looked pretty cool without that fairing on it (if you really want inspiration, check out this Café Fighter over on Bike Exif) so with nothing more than a brief brake caliper shot and a moody headlamp, our money is on a bonkers, CBR1000R refresh because they haven't updated that engine since 2007. Possibly.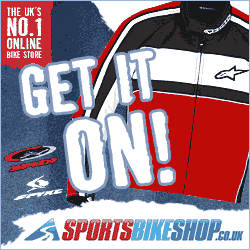 But then we're usually wrong about everything.