Just as we're all digging out our storm-proof, hyper-insulated textiles ready for the onslaught of wet and wind, Furygan have announced four new leather jackets – crazy French! Don't they have bad weather over there?!
Well, they do actually and these are part of the new Autumn/Winter collection, so all feature thermal linings – that's the only concession though, no fancy waterproof linings or stuff used by NASA astronauts. They must breed them hard over the channel…
First up is the Sherman, which is made from premium cow leather, has foam reinforcements on the elbows, plus D3O CE protectors at shoulders and elbows, and has a back protector pocket compatible with the 'Central Back' type level 1 and 'Full Back' type level 2 D3O back protectors.
Inside there's a removable thermal vest with aluminum inserts for protection against the cold and a 90% Coolon lining, designed to maximise breathability, moisture absorption and comfort. Furygan Skin Protect, approved by Furygan's R&D (Motion Lab), reinforces the jacket for tearing and abrasion resistance. Areas exposed to tearing and abrasion in a crash situation are also reinforced with triple stitching. It's available from this month in black in sizes S-3XL with an RRP of £399.99.
Furygan say the Spectrum jacket is designed to feel like a second skin; for sports bike riders who need a leather jacket with an ergonomic and close fit. It' also cow leather and has high-tenacity bi-stretch with CE homologated D3O protectors at the shoulders and elbows, plus has the back protectors option too.
The Spectrum also comes with 'integral racing sleeves', with high tenacity bi-stretch and triple stitching. It also has the Skin Protect lining and a thermal, padded, removable vest. It'll be available in UK dealers from January 2018 in black-white, black-fluo yellow, black-fluro-green and black-red in sizes S-3XL with an RRP of £369.99.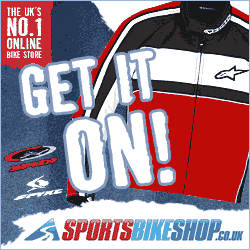 The Freddy draws style inspiration from the American flight jacket and is super-soft premium cow leather. It features D3O CE homologated protectors at the elbows and shoulders and the Skin Protect lining for safety, and a removable padded, thermal liner with sleeves for warmth. The straight fit jacket has five pockets (four outside, including a credit card pocket on the sleeve, and one inside).
As with the other jackets, there's the option to upgrade the back protection, and key areas are triple stitched.
The waist and wrists are built with a knitted rib for comfort.
The Freddy will also be in dealers from January 2018, and comes in black only, sizes S-4XL with an RRP of £339.99.
The Bronson has a khaki liner, topstitching and subtle Furygan logos for a dash of style off the bike, as well as on it. It has the Furygan Skin Protect Lining, D3O CE homologated protectors at the elbows and shoulders; back protector options and triple stitching for safety. It also has a removable thermal padded lining. It's a 'straight fit' and has adjusters at the waist, and stretch leather behind the shoulder for easy mobility.
It will be available in UK dealers in January 2018 and comes in brown only, sizes S-4XL with an RRP of £369.99.