Vespa are no stranger to a bit of merchandising, and why would you be when you're one of the most iconic brands on earth? From T-shirts to tea towels, polo shirts to pencil cases, there ain't much you can't buy with Vespa written on it.
New to the accessories and lifestyle range are the V-Stripe Helmets, which Vespa say '…add a vibrant splash of colour to every ride, whatever the weather.'
They're certainly not subtle and come in five eye-popping shades – Yellow, Red, Black, White and Azure – and feature equally lurid and contrasting graphics, inspired by the letter 'V' in the Vespa logo, plus an Italian flag shield graphic on the side, and the Vespa logo too – just in case.
The demi-jet design offers all-round vision for navigating crowded city traffic , and makes the helmets compact enough to fit in the under-seat storage compartments found on most modern scooters.
They're approved to the current ECE2205 safety standard, have an ABS shell and are secured with a micro-adjustable, quick-release , seatbelt-style strap.
Inside there's a breathable, hypo-allergenic textile lining, and there are three visor options to choose from: standard and shaped short visors, as well as a long version.
Vespa V-Stripe helmets are made in Italy, come in sizes XS-XL and retail at £139.99.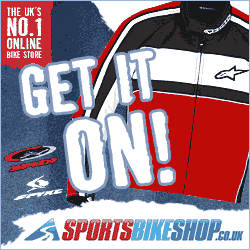 If you think you can pull off the look, visit the Vespa store online where you'll find a plethora of matching V-Stripes stuff, that's all equally as garish – but thoroughly Vespa.