How many of you are familiar with Bultaco? For those who aren't, let us introduce you.
Bultaco is a near legendary motorcycle brand founded by Don Paco Bultón in 1958
With a rich history, winning many Spanish and International championships with riders such as Barry Sheene, Ángel Nietzsche and Sammy Miller, Bultaco is one of those brands that seemed to get lost over the years until a rejuvenation and completely new direction began a couple of years or so ago; moving on from motorcycles such as The Matador, the brand decided to switch things up a little.
The launch of the Brinco R was a complete switch for the brand, and with it they delivered an electric bicycle that appealed to both MX riders and mountain bikers. It was bold, bright and had some pretty cool details for a bicycle.
Now, moving on from this the company has decided to create a bike which was just a little more affordable – £4,600 is a pretty astonishing amount to spend on something that doesn't have an engine in it, and so now, here we have a new entry level bike. The Bultaco Brinco R-B.
With a pedal sensor, the company has made it possible for customers to turn to the after market and retro fit a kit that turns it into a fully EU compliment electric bike that can be ridden anywhere, by anyone, anytime.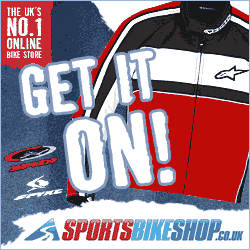 Some people find it a bit hard to get too excited about bicycles. Especially ones that cost €3,302. However, it's also hard to deny that there is still something inherently cool about the heritage of this brand and that can be seen through the design and styling of the Brinco range.
Remember, this isn't a motorcycle, so the standard performance is 2kW max power with a top speed of 60km/h. But 60km/h of assisted speed when riding the trials? We'll have some of that.
Bultaco say they have been and will continue to be a motorcycle maker, but it is in tune with the growing demand for electric bicycles, furthered by the increasingly stringent permissive legislation governing motorcycles in off-road settings.
Two-wheelers' need new riders, and new riders come along when there are new ideas, and we think it's pretty cool for a motorcycle brand to flip it and deliver an electric bike that might just appeal to non-traditional motorcyclists who prefer a little more grunt.
Source: Bultaco