Belgian electric race-bike maker on the shortlist for 2019 electric MotoGP class.
Saroléa have been regulars at the Isle of Man TT Zero over the past few years and – despite some disappointing results – they've made quite an impression on the battery-powered racing world.
Whilst the mighty development team of Honda and Mugen have swept up the trophies, brothers Bjorn and Torsten Robbens have steadily and tirelessly worked behind the scenes to develop their SP7 into a machine fit for the premier racing classes; and now it looks as if they might have their chance.
In a private testing session yesterday at Aragon, Loris Capirossi took the latest Saroléa SP7 incarnation through its paces around the track and in front of Dorna boss Carmelo Ezpeleta, in what would appear to have been a stage in part of a selection process; a process aimed at choosing a motor supplier for the intended E-MotoGP class.
Dorna's plans for the new electric race series are believed to be similar to the set-up for Moto2 – where the entire field is powered by a single, engine supplier.
If this supply contract were to be offered to Saroléa, it would be an incredible achievement for the young, startup company; especially as its one that doesn't even have a road-going bike available at the current time.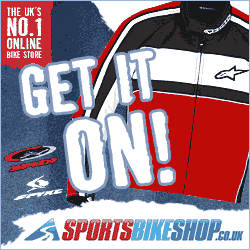 All that is due to change very soon however, as the street version of the SP7 – the Manx7 – is due to hit the first paying customers in 2018, so the production timings would certainly seem to align.
But what did Capirossi – and by extension Dorna – think of the Belgian-based, battery bike? All initial signs would appear to be extremely positive,
"He seemed impressed with the motors character and the relatively low weight of the bike. He [Capirossi] already tested other engines that qualify for this cup, and I suspect they had heavier motorcycles.
We dare to say that we are on the shortlist, along with US company Mission Motorcycles, the Italian firm Energica, and probably another player such as Mahindra."
Photos: Mirco Lazzari