It's been bubbling under the surface for a while now, but motosport – and specifically motocross – inspired clothing has finally made it through to the public consciousness.
Believe it or not, and despite having written about catwalk fashion shows here on Motofire before, an article about the Bajan beauty Rihanna is a first for us here on our little motorcycle website.
Now, we know that a story about the pop/RnB songstress and self-proclaimed bad-girl isn't what you'd ordinarily expect to read on these pages, but – as in our previous piece on the fashion world – we think that the latest news from New York Fashion week is actually rather important for this two-wheeled past-time of ours; because an endorsement by Rihanna and Puma for their latest clothing collaboration is just the kind of shot-in-the-arm that this industry has been crying out for.
The Rihanna X Puma FENTY show featured motocross bikes heavily throughout their event; not just with them jumping across the ramps and over the models on stage, but also throughout the style direction of the clothing on display.
Large logos, race numbers and bright, garish colours took centre stage throughout the collection and this kind of attention can only be good for motorcycling. Imagine the young girls and women who'll catch just a spark of interest in riding a bike now that they've seen Rihanna do the same? Think of the music lovers who'll go out, buy the padded leather jacket and then consider swinging a leg over a motorcycle because that seems 'like something they should do' to match the outfit.
But "what about all those 'hipsters' that ruined biking for everyone when they started pretending that they loved motorcycles, grew beards, got tattoos and started making rubbish custom motorcycles", we hear you cry!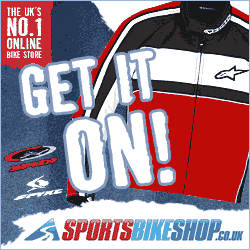 (You mean the ones that inspired a mini-revolution within our industry, started new businesses and began to develop whole new ways of thinking about two-wheeled machines?)
Sure, none of the people in these scenarios are 'bikers'. But then nor where any of us, once. Everyone has to start somewhere, don't they?
And if mainstream attention like this only serves to put a few hundred extra backsides into the saddle of a motorcycle then that's ok.
Maybe – just maybe – that'll be a few hundred more people who'll discover the thrill of two wheels and then go off and tell a few hundred of their friends.
And the Lord knows that we desperately need new blood taking up two wheels.
Plus – you know – Rihanna.