Is the F1 star retiring? Starting a motorcycle team? Investing in MV? Or just another 'special edition'?
Lewis Hamilton loves motorcycles. He also loves F1 (at the moment anyway) and motorsport in general so a post of him on a motorcycle, especially an MV Agusta, is nothing new. In fact, he posted a tease for his new L'Oreal Men campaign that saw him sat on a custom motocross machine only yesterday. But this latest tweet is different.
What could it mean?
Announcement coming tomorrow… 🔥🔥🔥 pic.twitter.com/hKeADSYZsw

— Lewis Hamilton (@LewisHamilton) September 27, 2017

The 32 year-old World Champion hasn't renewed his Mercedes contract that's due to run out in just over a year's time, and speculation about his future has been rife in the Formula1 world for a while. But he's surely not going leave Mercedes is he? And to do something with motorcycles?
We can't see it happening.
BUT we've been wrong about things before and this is Lewis Hamilton we're talking about, so anything is possible.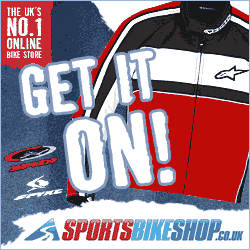 Realistically though, we're a month way from EICMA, MV Agusta – for whom Lewis is a bit of an ambassador for – has secured an immediate future with Russian backing and his Dragster RR LH44 version is probably due a bit more chrome and sparkle. So it's probably that.
Update:
09:33 – 28/09/17
We've been pointed by a MF'er below to a video posted on Motor.nl and it does indeed look like a new, limited edition MV Agusta. This time it looks to be an F4 (which can be seen blurred in the background of Hamilton's tweet). It was actually teased by the F1 World Champion at the recent Monza round and appears to be a red F4, embellished with the usual Hamilton accoutrements of shiny bits, decals and race-spec parts – like a titanium exhaust system from SC Project.
According to Motor.nl, it'll be a €50,000 special and will kick out 212 hp.
We expect a 'proper' announcement today.